ADA Benches from A Plus Warehouse are Now Made from Aluminum
Press Release Summary: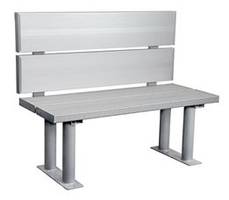 Aluminum ADA Locker Benches meet specifications in the Americans with Disability Act. Benches made with durable powder coated aluminum finish are wide, strong, durable, and easy to assemble. Seating area of the bench has four 3-inch bolt pedestals which can be secured to the ground using mounting holes. Dimension of the bench is 42-by-39-by-24.
---
Original Press Release:
A Plus Warehouse Aluminum ADA Locker Benches
A Plus Warehouse is pleased to announce the new Aluminum ADA Locker Benches. Previously, the company only sold wooden ADA benches. Offering a large catalog and product variety is very important to A Plus Warehouse. The Americans with Disability Act, also known as ADA, prohibits discrimination against individuals with disabilities is all areas of public life. ADA benches and other ADA products sold at A Plus Warehouse such as ADA lockers help to meet guidelines. Aside from accommodations for disabled people being law, it is also the right thing to do!
The Aluminum ADA Locker Bench is very strong and durable as well as being easy to assemble. Each seating area includes four 3" diameter bolt mounted pedestals with four mounting holes to secure to the ground. Bench pedestals feature durable powder coated aluminum finish. The bench is 42" W x 39" H x 24" D. These benches are wider than most standard benches, which makes them ADA. A Plus Warehouse ADA Locker Benches are available today!
More from Communication Systems & Equipment