ACUSTRIP Total Metals Fluid Test #70032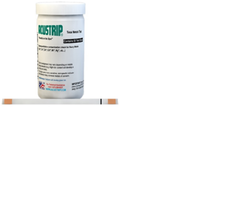 ACUSTRIP Company, Inc. leading fluid diagnostics since 1989 continues to bring new innovations in vehicle fluid diagnostics. ACUSTRIP® products have been proven effective with Automotive & Truck service providers, DIYers and OEMs worldwide. Customers praise the ACUSTRIP products for their reliability and ease of use.
Power Steering and Transmission fluids are often overlooked when a vehicle is being serviced. Excessive metals under the demand of severe stop and go driving can rapidly accelerate wear. Monitoring the level of metals at each preventative maintenance service assists to determine change schedule and plan for preventative maintenance. Change your fluids when they need to be changed with maintenance. The Innovative 2 tests on a strip, total metals #70032 provides "on the spot"® fast, easy and reliable evaluation of the condition of the fluids. The single test strip is good for 2 fluid tests.
The patented test enables early detection of a corrosive and contaminated environment. Service providers can show their customers the condition of their fluids on the spot®!
ACUSTRIP® #70032 is now available in convenient to use dispensers of 100 tests that protects the tests strips until they are used.
Contact:
Ronald Schornstein
ACUSTRIP Company, Inc.
124 E Main Street, Suite 109B
Denville, NJ 07834
Phone 973.299.8237
Fax 973.334.4953
More from Packaging Products & Equipment