Actuators offer maximized power density.
Press Release Summary: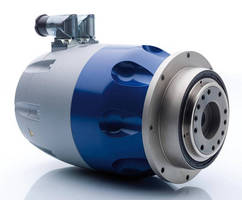 WITTENSTEIN TPM+ actuators feature helical toothing in gearhead, allowing for optimized operation at output, while minimized noise levels lessen influence of meshing frequencies. Single-stage versions, suited for rack-and-pinion, and 2-stage versions for rotary drive tasks are available. They are offered in 5 power sizes with acceleration torque from 50-1,600 Nm and noise levels from less than 58 dBA to less than 72 dBA. Various reduction ratios are also offered.
---
Original Press Release:

TPM+ Power the Newest Product of the WITTENSTEIN TPM+ Actuator Series



This latest solution from WITTENSTEIN's actuation family offers superior power density in an exceptionally compact package.

The TPM+ power is available in a single-stage version - well suited for rack-and-pinion or other high speed applications - or as a two-stage actuator for rotary drive tasks. Various reduction ratios are offered to facilitate an actuator design characterized by optimal energy efficiency and dynamics. Helical toothing in the gearhead allows for smoother running at the output and the influence of meshing frequencies is minimized with the overall noise level at 6 dB lower than alternative technologies.

The permanent magnet synchronous motors developed by WITTENSTEIN offer remarkable power density mainly due to the high pole count and the optimum copper fill factor in the slots. At the same time, the high quality of the laminations in the stacks helps optimize the power balance by limiting losses due to eddy currents. As for the feedback systems, WITTENSTEIN relies on the robust technology of rugged resolvers and the precision of optical encoders using the EnDat and Hiperface protocols. A backlash-free permanent magnet brake is available as an option.



TPM+ power sizes                         004 	010 	025 	050 	110 

Max. acceleration torque [Nm]             50 	130 	380 	750 	1600 

DC bus voltage [V DC]                    320, 560

Overall length [mm]                      149 	175 	197 	236 	305 

Max. torsional stiffness [Nm/arcmin]      12 	33 	86 	190 	610 

Tilting stiffness [Nm/arcmin]            225 	550 	560 	1452 

Torsional backlash, std/reduced [arcmin] 4/2 	3/1     3/1     3/1     3/1

Reduction ratio 	 

1-stage                                  4, 5, 7, 10 

2-stage                                  16, 20, 25, 28, 35, 40, 50, 70, 100 

Degree of protection                     IP65   IP65    IP65    IP65    IP65

Noise level [dB(A)]                      <58 	<60 	<64 	<65 	<72 



For more information on our company or our solutions, please visit us online at www.wittenstein-us.com

Company contact:

WITTENSTEIN (formerly alpha gear drives)

1249 Humbracht Circle

Bartlett, IL 60103

www.wittenstein-us.com

Media Contact:

Miriam Bilstein

WITTENSTEIN North America

1249 Humbracht Circle

Bartlett, IL 60103

miriam.bilstein@wittenstein-us.com

More from Software