Actuators and Presses suit heatstaking applications.
Press Release Summary: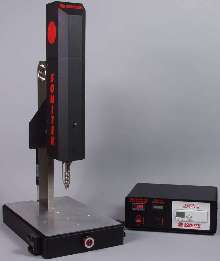 Spectrum Slim-Line Series precision linear slim-line actuators, suited for use in bench-top manual operations, semi-automated, and fully automated systems, can be operated from as far as 10 ft from power supply. Actuators include hydraulic speed controls, post-cooling manifolds, built-in pneumatic controls, and micro-adjustable positive stops. Additional offerings include features for staking by depth/force, selectable pre-heating mode, and secondary cold staking operation.
---
Original Press Release:

Sonitek Introduces New Line of Precision Linear Slim Line Actuators and Presses for Heatstaking


Sonitek will introduce a NEW line of Heat Staking Systems for Plastics Assembly for the first time at the National Plastics Exhibition.

The new "SPECTRUM" SLIM-LINE SERIES of actuators will incorporate precision linear slim-line actuators and presses which have been designed to accommodate the broadest range of users. The spectrum of end users the new slim-line series has been designed to include plastic injection molders with small production or prototype runs to the largest systems integrators and/or high volume assembly users - the new product line covers this "spectrum" of users with ease and efficiency.

The compact and rigid actuator is designed for use in bench-top manual operations, semi-automated and fully automated systems. Used with the new modular microprocessor controlled power supplies they are the most advanced and versatile heat staking assembly systems available to the market place. The actuator can be operated from as far as 10 feet (or more) from the power supply and may be mounted directly on a machine frame or supplied with its own fixed rigid column with integrated mounting hub and support frame assembly.

New unique features incorporated into the Spectrum line of actuators include integrated hydraulic speed controls, "post-cooling" manifolds, built-in pneumatic controls and micro-adjustable positive stops.

In addition, the Spectrum actuators include new advanced features for Staking by Depth and/or Force and include a new selectable Pre-heating mode for installing threaded inserts or Hot knife Degating. Another new feature includes secondary cold staking operation which provides Plastic re-solidification under high loads. The Spectrum line of power supplies and options will also allow higher end users to include features and options that will allow for total SPC control.

"We needed to introduce new technology and systems that can meet the demands of all of our customers" Said Robert Bishop, President of Sonitek. "The Spectrum line has a vast array of features and prices for all types of end users and with a very appealing price range starting at only $1,500 for a simple to use single point insertion or heat staking system!"

This new product compliments Soniteks very popular 500 series line of integrated heat staking systems and combined with the stand alone thruster market for automation integrators the Spectrum line will now incorporate the actuators and press systems into one design. They are available from ¼ ton units up to 5 Ton units.

"Customers are going to save a lot or money and time by using the Spectrum Line", claims Bishop. "For example, a product development engineer can now purchase this system to develop the application and parameters and then easily incorporate the actuator and press into automation thus saving the added expense of buying another system and develop all new parameters."

Sonitek is a leading manufacturer of plastic assembly equipment that meets the need for plastic assembly in all markets including: Automotive Component, Appliance, Business and Consumer Electronics, Toys, Medical Device, Injection Molders, and Packaging. Sonitek offers a complete line of New and used thermal assembly equipment and Ultrasonic Welders, as well as horns and fixtures for any make and model of ultrasonic welder. Sonitek offers free design guidance for plastic assembly applications. Please visit the Internet for more information: www.sonitek.com

Contact:
Alison Reilly
Sonitek Corporation
203-878-9321
areilly@sonitek.com

More from Laboratory and Research Supplies and Equipment