Active RFID Tag suits outdoor asset tagging applications.
Press Release Summary: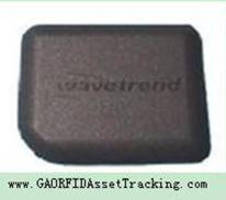 Model GAO124015 433 MHz active RFID tag is encapsulated in molded plastic case, which is ultrasonically sealed to protect it against adverse environmental conditions. Smart tag transmits RF signal at pre-set time interval for duration of its life. In addition, tag offers configurable settings, including customer site code, tag ID, tag age, counter value, movement alarm, and tamper alarm status. Tag tracks for up to 5 yr when transmitting at 1.5 sec intervals.
---
Original Press Release:

GAO Asset Tracking Adds 433MHz RFID Tag



Toronto, Canada - GAO RFID Asset Tracking (GAORFIDAssetTraking.com) recommends its 433MHz RFID Active Asset Tag (GAO124015). The tag is generally used for outdoor asset tagging applications and ideally suited for operating on metallic surface or plastics containing a high metal content.

GAO's 433MHz RFID active asset tag is encapsulated in a moulded plastic case, which is ultrasonically sealed in order to protect against adverse environmental conditions. The smart tag will transmit a Radio Frequency (RF) signal at a pre-set time-interval for the duration of its life. In addition, the tag offers configurable setting including Customer Site Code, tag ID, tag age, counter value, movement alarm and tamper alarm status. The transponder's low power consumption allows it to track reliably for up to five years even when transmitting at one-and-a-half second intervals.

The tag is also highly suited for mining operations if properly fitted in a NEMA enclosure.

For more information about GAO's 433MHz RFID Active Asset Tag, please visit www.GAORFIDAssetTracking.com or contact sales@GAORFIDAssetTracking.com

About GAO RFID Asset Tracking

GAO RFID Asset Tracking is a leading provider of Radio Frequency Identification (RFID) hardware and solutions to end users worldwide. GAO RFID Asset Tracking combines best of breed with low cost RFID readers, RFID tags and enabling-RFID software. We have a wide variety of RFID readers, tags and antennas in all the RFID technologies, Low Frequency (LF), High Frequency (HF), Ultra High Frequency (UHF, Gen 2) as well as Active and Semi-Passive. GAO Asset Tracking's products and services are easily customized for use in Asset Tracking, Health care, Supply Chain & Logistics, Event Management, Access Control, Livestock Tracking, Inventory Control & Management, Field Service, Maintenance and Document Authentication.

For more information please visit www.GAORFIDAssetTracking.com

GAO RFID Asset Tracking is a member of GAO Group, which also includes

GAO RFID Inc. - www.GAORFID.com
GAO Tek Inc. - www.GAOTek.com
GAO Research Inc. - www.GAOResearch.com
GAO Embedded - www.GAOEmbedded.com
GAO Instruments - www.GAOInstruments.com
GAO Comm - www.GAOComm.com
GAO Fiber Optics - www.GAOFiberOptics.com

Company Name: GAO RFID Asset Tracking Inc.
Phone: 416-292-0038

More from Services