Active RFID Reader/Writer operates at dual-frequency.
Press Release Summary: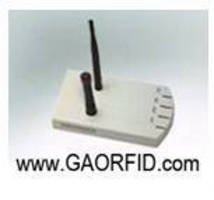 Encapsulated within impact resistant polystyrene case with UL94-HB flammability rating, model 241026 transmits at 433 MHz, receives at 916, 927, or 868 MHz, and uses parity bits and cyclic redundancy check to maintain data integrity. It has 2 input contacts for door sensor inputs and 2 output relays for electric door strikes, magnetic locks, CCTV, lights, or sirens. Multi-tag reading device supports interfaces such as RS232, Ethernet, or WLAN for communication with host PC.
---
Original Press Release:

Dual-Frequency Active Reader/Writer



Toronto, Canada - GAO RFID Inc. (www.GAORFID.com) has rolled out its 433MHz active reader/writer which operates at dual-frequency for fast and reliable communications. The reader transmits at 433MHz and receives at one of 916MHz, 927MHz and 868MHz depending on what is required for the geographical region. This RFID reader/writer is designed for easy set-up, configuration and use. It is suitable for applications including access control, asset tracking and inventory control.

The active reader/writer, model 241026, is encapsulated within an impact resistant polystyrene case with UL94-HB flammability rating. It has two input contacts for door sensor inputs and two output relays for electric door strikes, magnetic locks, CCTV, lights or sirens. The RFID reader uses parity bits and cyclic redundancy check to maintain data integrity. It receives data transmitted by a tag and sends the information in real time to a host PC. The data can be used to control access to restricted areas, track assets or manage inventory counts. In additional, it has multi-tag reading capability and supports host communication interfaces such as RS232, Ethernet or WLAN.

Visit www.GAORFID.com for more information.

For any sales inquires please contact:

1-877 585-9555 ext. 601 - Toll Free (USA & Canada)

1-416 292-0038 ext. 601 - All Other Areas

sales@gaorfid.com

About GAO RFID Inc.

GAO RFID Inc. (www.GAORFID.com) is a leading provider of RFID Readers, RFID Tags and RFID software providing cost saving solutions to end users worldwide. GAO offers all RFID technologies: Low Frequency (LF), High Frequency (HF), Ultra High Frequency (UHF, Gen 2) as well as Active and Semi-Passive. GAO RFID's products and services are easily customized for use in asset tracking,healthcare, supply chain & logistics, event management, access control, livestock tracking, inventory control & management, field service maintenance and document authentication.

Company Name: GAO RFID Inc.

Address 1: 601 Milner Avenue,3rd Floor

City: Toronto

Phone: 416-292-0038

More from Software