Active RFID Reader provides read range of up to 100 m.
Press Release Summary: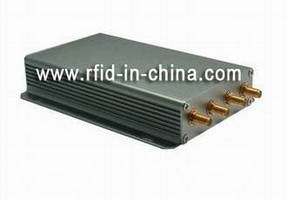 With ability to simultaneously detect multiple tags within 100 m range, 2.4 GHz DL3800 automatically receives information from active tags and can read/write configuration and user data to tag. Plug-and-Play device can interface with computers via TCP/IP or USB cable, and can be mounted on location for indoor or outdoor use. Unit is suited for wide range of applications, such as jewelry management, library management, and identification of goods and objects in industrial environments.
---
Original Press Release:

2.4GHz Active RFID Reader Offers Long Read Range up to 100m



DAILY RFID, a Chinese leading producer of RFID tags and RFID readers, has launched 2.4GHz Active RFID Reader DL3800, designed to provide long read range up to 100m.

The 2.4GHz active RFID reader have the ability of detecting multiple tags in a region of within 100 meters at the same time, with rapid tag process speed. It would automatically receive information from the active tags and can read / write configuration and user data to the tag.

The 2.4GHz RFID reader DL3800 is a long range rfid reader using active technology. The device can interface with computers through TCP/IP or a USB cable, enabling it also as a Plug-and-Play device. It can be integrated into your own equipment for active RFID solution and allow for uploading of data in real time. In addition, the 2.4GHz reader can be easily mounted at most location for indoor or outdoor use, such as at a desk, cart and vehicle, etc.

With a high-feature module, the integrated 2.4GHz active RFID Reader DL3800 is well suitable for many applications, such as jewelry management, library management solutions, the identification of goods and objects in industrial, logistics, etc.

Please visit www.rfid-in-china.com/products_709_1.html for more information about the 2.4GHz active RFID Reader.

About DAILY RFID CO.,LIMITED

DAILY RFID CO.,LIMITED( www.rfid-in-china.com ), which belongs to PAN Group Co., ltd, is the leading company focusing on the research and development of EPC & RFID technology in China.

We specialize in producing arguably the world's most extensive line of RFID Tag,RFID Label,Smart Card and RFID Reader(including passive/ active rfid reader), which are suitable for any vertical markets, and have obtained the National Integrated Circuit Card Register Certificate, IC Card Manufacture License and ISO9001 Quality Management System Certification. Also, We own a factory covering an area of 26,000 square meters.

Company Name: DAILY RFID CO.,LIMITED
Address 1: Rm D13,4/F,Baiyun Commercial Center,NO.131,Jichang Road
City: Guangzhou
Zip: 510403
Country: China
Phone: 86-20-86346357
URL: www.rfid-in-china.com/


More from Communication Systems & Equipment