Active Receiver Hubs feature automatic video compensation.
Press Release Summary: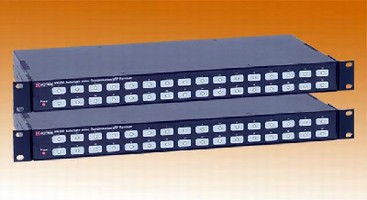 Compatible with worldwide video standards, Models Vi6200 and Vi6300 can transmit and receive video on unshielded twisted pair cable at 4,000 ft and 6,500 ft transmission distances. Automatic Video Compensation circuitry enables installers of CCTV to transmit video pictures over UTP cable at distances up to 6,500 ft without adjustment. Built to fit in standard 19 in. rack, units offer immunity to noisy crosstalk and interference, and include built-in ground loop isolation.
---
Original Press Release:

Vigitron, Inc. Announces a Line of UTP Transmission Solutions with Automatic Video Compensation (AVC)



Vigitron, Inc., a leading manufacturer of video transmission over unshielded twisted pair (UTP) products, introduces the new Vi6200 and Vi6300 series of active receiver Hubs with Automatic Video Compensation (AVC) feature.

These products are capable of transmitting and receiving video on UTP cable at mid range (4,000 Feet) and long range (6,500 Feet) transmission distances at affordable prices.

The new Automatic Video Compensation circuitry enables installers of CCTV to easily transmit video pictures over UTP cable at distances up to 6,500 Feet. When using AVC, excellent video quality is achieved automatically as the receivers do not require any adjustment.

The AVC's "plug and play" capability reduces installation time dramatically. Simply fit a Vi6300VT, active transmitter at the camera and the Vi6200 series in the control room can automatically compensate for any video losses up to 4,000 Feet, while the Vi6300 series can provide excellent images up to 6,500 Feet.

These new Vigitron models are built to fit in a standard 19" rack and come with complete rack mounting kits and a full set of interconnecting cables.

Additional built in features include:

o Compatible with all worldwide video standards: NTSC, PAL and SECAM

o Industry leading immunity to noisy crosstalk and interference (70 dB)

o Built in ground loop isolation to remove damaging hum bars and distorting ground loops

o Compatible with qualified UTP built in cameras

o Includes two-foot coax jumper cables for each channel

o Video present diagnostic LED indicators for each channel

o Lifetime warranty

o Choice of connectivity options: screw terminal or RJ-45 connectors, which are designed to work with Vigitron's extensive line of video-power-data transmission equipment.

For additional information, please send e-mail to: info@vigitron.com

More from Electrical Equipment & Systems