Active Optical Cable Assemblies operate up to 10 Gbps/lane.
Press Release Summary: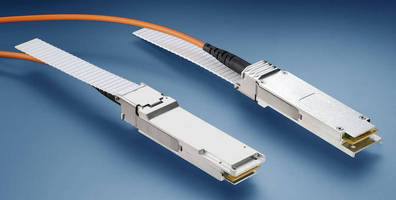 Designed with internally terminated optics, PARALIGHT QSFP+ cable assemblies have passively cooled design and fully integrated optical engines. Cable management is facilitated via 3.0 mm dia and tight bend radius. Electrical-optical and optical-electrical conversion are built into connector shell. Cables feature 7 transmit and 4 receive channels for InfiniBand standard SDR, DDR, and QDR applications. With 850 nm VCSEL technology, cable assemblies operate over 2.5-10 Gbps per lane.
---
Original Press Release:

New Second Generation of Paralight 10 Gbps-Active Optical Cable Assemblies from TE Connectivity Offers Low Power Consumption and High Performance Benefits



HARRISBURG, Pa. - TE Connectivity (TE) launches its second generation of PARALIGHT QSFP+ active optical cable assemblies to offer customers significant power and cost savings through fully integrated optical engines that use less power, are lower in cost and offer higher performance compared to its previous generation. The new product is also competitively-priced compared to its previous offering.

Designed with internally-terminated optics, the new product line eliminates the need to clean an optical connector. The cables' passively-cooled, environmentally-friendly design offers a low thermal resistance path from the chip to the connector shell for additional operational savings. An added benefit of the second generation of PARALIGHT QSFP+ active optical cables is improved cable management though the cables' light-weight design, small diameter of 3.0mm and tight bend radius.

This second generation of cables includes four transmit and four receive channels at 10 Gbps per channel for InfiniBand standard SDR, DDR and QDR applications. With 850 nm VCSEL technology, the cable assemblies operate over a data rate of 2.5 Gbps to 10 Gbps per lane with an aggregate data rate of 40 Gbps. The cables incorporate electrical-optical and optical-electrical conversion that is built into the connector shell to yield a dramatic improvement in PCB real estate utilization.

The cable assemblies are available in lengths up to 100 meters using 50 micron fiber and longer lengths are available upon request. The EOE circuitry is designed for use with 8B/10B encoded data streams such as InfiniBand, Fibre Channel and XAUI. The QSFP connector style supports connections for an I2C-serial interface, which can be used to identify the product and performance capabilities.

Product applications include: high-speed interconnects within and between switches and transport equipment, server-server clusters, super-computing interconnections, and rack-to-rack, shelf-to-shelf, board-to-board and board-to-optical backplane interconnections. The active optical cables meet the differential I/O per InifiniBand version 1.2.1 specification.

For more information on the new QSFP+ active optical cable assemblies from TE, visit www.te.com/products/paralight or contact the Product Information Center at 1-800-522-6752.

About TE Connectivity
TE Connectivity is a global, $12.1 billion company that designs and manufactures over 500,000 products that connect and protect the flow of power and data inside the products that touch every aspect of our lives. Our nearly 100,000 employees partner with customers in virtually every industry-from consumer electronics, energy and healthcare, to automotive, aerospace and communication networks-enabling smarter, faster, better technologies to connect products to possibilities. More information on TE Connectivity can be found at http://www.te.com/.

PARALIGHT, TE Connectivity and TE connectivity (logo) are trademarks. Other logos, product and/or Company names might be trademarks of their respective owners.

More from Agricultural & Farming Products