Active Harmonic Filter solves power quality issues.
Press Release Summary: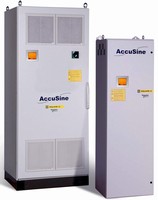 Square D® AccuSine® PCS Active Harmonic Filter (AHF) injects harmonic current to cancel harmonic current in the electrical distribution system to reduce harmonic level results. Including Telemecanique® Magelis® XBT-G 3.8 in. graphical touchscreen terminal and compact HMI terminal, configurable filter is available in 50, 100, and 300 A ratings with UL, CSA, CE and ABS certifications.
---
Original Press Release:

Schneider Electric Releases New Model of the AccuSine PCS Active Harmonic Filter to Solve Power Quality Issues



PALATINE, Ill. - January 8, 2008 - Schneider Electric today announced the release of its newest model of the Square D® AccuSine® PCS Active Harmonic Filter (AHF). The AHF provides the simplest and most effective means to mitigate harmonics, reduce process-related voltage fluctuations and improve electrical equipment operating life and distribution system capacity.

The new model includes the Telemecanique® Magelis® XBT-G 3.8" graphical touchscreen terminal, a small and compact HMI terminal that is powerful enough to support high-end HMI applications to cater to customer needs. The compact, yet highly visible 320 x 240 pixel Magelis XBT-GT touch screen supports multiple languages and font sizes. It integrates Ethernet; can be connected on Uni-Telway/Modbus®, Modbus TCP/IP; and includes an alarm function with fault logging for better traceability.

The AHF filter injects harmonic current to cancel harmonic current in the electrical distribution system to reduce harmonic level results. This improves electrical network reliability and reduces operating costs. In addition, the AccuSine PCS is more compact than standard harmonic mitigation devices.

"The AccuSine PCS is simple to size, install, set up and operate," said Jim Johnson, AccuSine product manager. "It eliminates the complex harmonic compliance limit calculations and removes nuisance harmonics from the electrical network. The new HMI device comes with the high-quality QVGA graphical touch screen and provides customer with numerous user-friendly features."

Easy to operate, integrate and maintain, the AccuSine PCS is available in 50A, 100A and 300A ratings and can be configured into different capacities. It carries UL, CSA, CE and ABS certifications and meets all major worldwide harmonic standards, such as IEEE-519, G5/4-1, GB/T 14549 and IEC 61000-3-2/3-4.

About Schneider Electric
Headquartered in Palatine, Ill., the North American Operating Division of Schneider Electric had sales of $3.7 billion (U.S.) in 2006. The North American Operating Division is one of four operating divisions of Schneider Electric, headquartered in Paris, France, and markets the Square D®, Telemecanique® and Merlin Gerin® brand products to customers in the United States, Canada and Mexico. In the United States, Schneider Electric is best known by its flagship Square D brand, with Telemecanique becoming increasingly known in the industrial control and automation markets and supported by many Square D distributors.

For more than 100 years, Square D has been a market-leading brand of electrical distribution and industrial control products, systems and services. Schneider Electric is a global electrical industry leader with 2006 sales of approximately $17.2 billion (U.S.). Visit Schneider Electric on the Internet at:
Corporate - www.us.schneider-electric.com


Related