Active GPS Antennas measure 50 x 30 x 5.45 mm.
Press Release Summary: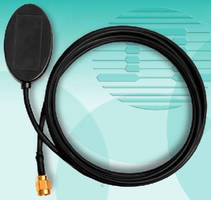 Combining pulse ceramic chip antenna with low noise amplifier (LNA), ovular W4000 series receives, amplifies, and filters GPS signals for telematics applications. It is designed for in-vehicle mounting and can be positioned on dashboard or window without concerns about orientation. Offered in 4 models with various connectors, antennas operate at 1,575.42 MHz and 3-5 V, with max gain of 1.5 dB isotropic and 28 dB with LNA having 1 dB noise figure.
---
Original Press Release:

Pulse Introduces the Thinnest Active GPS Antennas



Multi-positional antenna for versatile installation

San Diego, Calif., October 26, 2009 - Pulse, a Technitrol (NYSE: TNL) Company, a worldwide leader in electronic component and subassembly design and manufacturing, announces the W4000 series of GPS active antennas. These ultra-thin, oval-shaped antennas offer high performance and versatility in installation. The antenna can be positioned on the dashboard or window without concerns about orientation. Designed for in-vehicle mounting, Pulse GPS antennas combine a Pulse ceramic chip antenna with a low noise amplifier (LNA) resulting in an antenna profile that's more than 50% thinner than standard GPS antennas while still maintaining an excellent level of performance. These antennas receive, amplify, and filter GPS signals for telematics applications such as in-car infotainment, navigation and location, intelligent vehicle safety, fleet management and tracking, asset monitoring, risk management, and pay-as-you-drive insurance applications.

Pulse's W4000 GPS antennas are only 5.45 millimeters high and 50x30 millimeters at the widest points of the oval. The antenna is uniformly thin throughout. They operate at 1575.42 megahertz and 3 to 5 volts, with a maximum gain of 1.5 decibels (dB) isotropic and 28 dB with an LNA having 1 dB noise figure. The antennas are standard with 5 meters of RG-174 cable and come in four models with a variety of connectors.

W4000D197 MMCX male straight connector
W4000G197 SMA male straight connector
W4000J197 MCX male straight connector
W4000L197 FME male straight connector
Other cable and connector options are available upon request.

The antennas are individually packaged with double-sided tape for easy installation. The antenna can be installed with either side facing up. As a result, only one antenna is required for either glass or dashboard mount, making installation simple. The W4000 series is an ideal solution for after-market installations.

"Telematics devices are being used by insurance companies for risk assessment, by the navigation sector, and by freight companies for tracking and proof of regulatory compliance. In addition, GPS devices are more routinely integrated into consumer vehicles," explained Beatrice Colbeau, product manager for Pulse. "Pulse has developed a cost-effective method for manufacturing these antennas while at the same time producing antennas that give consistent performance, have diverse uses, and are easily installed."

Prices are around $4.29 in quantities greater than 100,000 antennas. Pricing may vary due to order configuration and destination. Lead-time is six to eight weeks. Detailed specifications are available on data sheet W4000 available at the Pulse website at www.pulseeng.com/index.php?1268

About Pulse
Pulse, a Technitrol (NYSE: TNL) Company, is a worldwide leader in the design, manufacturing, and sales of sub-assembly electronic components. Pulse products are used in web infrastructure, computing, networking, communications, power conversion, defense and aerospace, automotive, wireless equipment, and hand-held technologies. State-of-the-art custom designs and catalog products position Pulse as a complete source for electronic OEMs, contract manufacturers, and ODMs. Pulse is a participating member of IEEE, ATIS, ETSI, HDMI, the DSL Forum, CommNexus, and MoCA. For more information visit the Pulse website at www.pulseeng.com.

Copyright ©2009 Pulse Engineering, Inc. All rights reserved. All brand names and trademarks are properties of their respective holders.


More from Electronic Components & Devices