Active Air Care Product releases steady fragrance for 60 days.
Press Release Summary: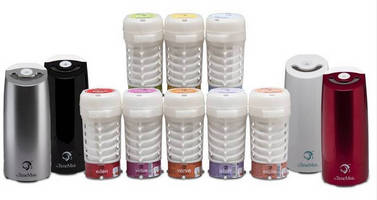 Utilizing oxygen generating technology, O2™ by TimeMist® continuously dispenses consistent, ambient fragrance for 60 days per cartridge refill. CARB, EU, and REACH compliant refills, available in 8 pure oil fragrances, provide odor-neutralizing agents that eliminate malodors and leave fresh scent in air. Battery life is rated at up to two years, and included indicator notifies users when refill is exhausted and when batteries must be replaced.
---
Original Press Release:

Zep Inc. Launches O2(TM) by TimeMist®



Oxygen-Generated Active Odor Control with Continuous Fragrance



ATLANTA — Zep Inc. (NYSE:ZEP), a leading consumable chemical packaged goods company that manufactures a wide variety of high-performance maintenance and cleaning chemicals today announced that Zep Distribution, a unit of Zep Inc. (a subsidiary of Amrep, Inc), will launch O2TM by TimeMist®, the next generation of active air care. TimeMist is the industry's leading air care and odor care line. O2 by TimeMist utilizes patented oxygen generating technology to deliver continuous, consistent, ambient fragrance for 60 days, guaranteed.



"This technology is similar to what is used in medical applications where providing consistent dosing quantities over time is critical to quality," says Steve Nichols, Group President of Zep Inc. "Because O2 by TimeMist consistently and continuously dispenses fragrance, it is an excellent alternative to more traditional technologies such as gels, wicked products and aerosol systems".



The O2 by TimeMist system offers several key features beyond today's standards: sleek dispenser design and several color options, 60-day refill cartridge (CARB, EU, and REACH compliant), low VOC refill content, and available in eight pure oil fragrances ranging from herbal to citrusy to floral. The refills provide odor-neutralizing agents that eliminate malodors and leave a fresh scent in the air.



The dispenser has a two-sided oxygen generator that takes ambient air from one side and transforms it to pure oxygen on the other side. The resulting oxygen is channeled into the refill where it consistently squeezes pure fragrance oil out onto its unique cellular diffuser. The high quality fragrance is then carried throughout the room by natural airflow for a full 60 days. The dispenser also has an indicator to notify users when the refill is exhausted and when the batteries must be replaced. The innovative O2 by TimeMist dispenser beats industry standards with a battery life of up to two years.



The O2 by TimeMist system is ideal for a variety of spaces in all environmental conditions within a range of commercial building types including, restrooms, lobbies, conference rooms, and office spaces in a variety of venues, such as: convention centers, airports, arenas, hotels, health care facilities and higher-education buildings.



About Zep Distribution

Zep Distribution, a unit of Zep Inc. (Subsidiary of Amrep, Inc.) is a leading provider of high-performance specialty cleaning and maintenance chemical solutions to the distribution channel. Our solutions clean, maintain, and protect our customers facilities, equipment and vehicles. We manufacture brands like: Zep Professional®, Misty®, TimeMist®, and Enforcer® brands. Zep Distribution also leads the industry as a premier private brand manufacturer. For more information, visit www.zepdistribution.com



About Zep Inc.

Zep Inc., with fiscal year 2013 net sales of approximately $690 million, is a leading consumable chemical packaged goods company selling a wide variety of high-performance chemicals that help professionals and prosumers clean, maintain and protect their assets. We are focused on the attractive industry dynamics of the transportation market and the industrial maintenance and repair operation ("MRO") market, which together now comprise approximately 60% of our revenue with the balance derived from sales into the facilities maintenance vertical. We market these products and services under well recognized and established brand names, such as Zep®, Zep Commercial®, Zep Professional®, Enforcer®, National Chemical™, Selig™, Misty®, Next Dimension™, Petro®, i-Chem®, TimeMist®, TimeWick™, MicrobeMax®, Country Vet®, Konk®, Original Bike Spirits®, Blue Coral®, Black Magic®, Rain-X®, Niagara National™, FC Forward Chemicals®, Rexodan®, Mykal™, and a number of private label brands. Founded in 1937, some of Zep Inc.'s brands have been in existence since 1896. Zep Inc. is headquartered in Atlanta, Georgia. Visit our website at www.zepinc.com.



Investor Contact:

Don De Laria

VP Investor Relations & Communications

Zep Inc.

404-350-6266

don.delaria@zep.com



Linda Barlow

Marketing & PR Copywriter LLC

www.barlow-writer.com 

lbarlow416@gmail.com

Phone: 267-481-0502

More from HVAC