Acrylic Sheets are made from recycled content.
Press Release Summary: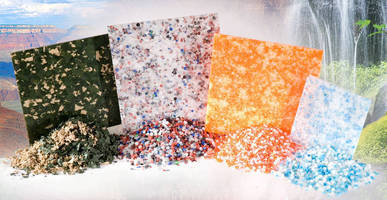 Made from 30%-50% recycled plastic materials, Ecoglas® environmental acrylic sheets resemble beach glass, stained glass, jungle or desert camouflage, and hard candy. Fusion between acrylic casting with inclusion of colorful post-industrial scrap plastic materials affords variety of colors and textures. Thermo-formable and translucent, sheets are made from blended, dissimilar, recycled polymers and suit such applications as POP displays, store fixtures, furniture, lighting, and signs.
---
Original Press Release:
Acrilex Introduces New Ecoglas® Series Environmental Acrylic Sheets
Environmentally-conscious and aesthetically appealing Acrilex, Inc., a leading producer and distributor of high-end custom-colored acrylics, announces a brand new line of acrylic sheets, Ecoglas®. Made from 30 to 50 percent recycled plastic materials, the new Ecoglas® recycled line of environmental acrylic sheets resembles beach glass, stained glass, jungle or desert camouflage and hard candy. A fusion between the art of acrylic casting with inclusion of colorful post-industrial scrap plastic materials affords an enormous variety of colors and textures. Ecoglas® is not only aesthetically pleasing but ideal for a variety of applications including point of purchase displays, store fixtures, furniture, colorful lighting, playful privacy panels, and signs. Ecoglas® fabricates like cast acrylic, is thermo-formable, translucent, and is more economical than premium Acriglas® patterned acrylic sheets. As gentle on the environment as well as on your wallet, Ecoglas® is the only cast acrylic sheet on the market today made from blended, dissimilar, recycled polymers. About Acrilex, Inc. Acrilex is a leading producer and distributor of custom-colored acrylics, custom-configured acrylic fixtures and other products that make people say WOW! In business to provide solutions to clients, Acrilex can design it, create it and get it to you faster than anyone else in the industry. Headquartered in Jersey City, NJ, Acrilex offers a complete line of acrylic products and capabilities. To learn more about Acrilex, call Dan Rustin, a.k.a. Dr. Dan, at 1-800-222-4680, or via email at drustin@acrilex.com. Additional information can be found on the Acrilex company website, www.acrilex.com
Related