Acrylic Paint provides one-coat, high-build finish.
Press Release Summary: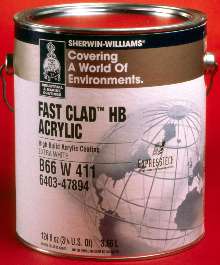 Single-component Fast Clad(TM) HB Acrylic cuts costs in new construction and maintenance projects by eliminating need for two- or three-coat systems. Coating provides 5-8 mils DFT when applied over zinc-rich primers. It can also be applied over other primers and directly to prepared steel. Paint offers early moisture resistance and dries to touch in one hour at 77°F. Applications include structural steel, machinery, storage tanks, and piping.
---
Original Press Release:

Fast Clad(TM) HB Acrylic from Sherwin-Williams Offers One-Coat, High-Build Finish


Coating Belongs to New Express Tech(TM) Family of Coatings for Improved Productivity

(CLEVELAND, September 24, 2002) - Sherwin-Williams Industrial and Marine Coatings group is introducing Fast Clad(TM) HB Acrylic as part of its new ExpressTech(TM) coatings family. Sherwin-Williams ExpressTech coatings are engineered to improve end-user productivity by helping facilities owners and coatings applicators save time and money on coating.

Fast Clad HB Acrylic is a single-component, one-coat acrylic that cuts costs in new construction or maintenance projects by eliminating the need for two or three-coat systems. The coating offers 5-8 mils DFT in a single coat when applied over an organic or inorganic zinc-rich primers. (Conventional acrylics generally cannot be applied at greater than 2-3 mils DFT, hereby necessitating two acrylic coats over the primer.) Fast Clad HB Acrylic also can be applied over a variety of other primers or
directly to prepared steel.

Fast Clad HB Acrylic offers outstanding early moisture resistance. In just one hour at 77°F, it dries to touch to a chemical and corrosion resistant finish with superior gloss and color retention. The fast-turnaround coating is ideal for use by the power generation, electric utility and other industries for
structural steel, machinery, storage tanks, equipment, piping and other uses.

The development of the ExpressTech family is the result of listening to customer needs. "Whether they're finishing water tanks, structural steel or plant floors, industrial specifiers and applicators have long had a common desire," says Doni Riddle, vice president and director of Sherwin-Williams Industrial and Marine Division. "In simple terms, they want everything to go faster. Now we can prove we are listening." All of the ExpressTech coatings offer significant benefits, either by reducing application and labor costs, providing faster throughput, faster return to service of equipment, faster stack times in fabrication shops and lower VOC emissions"

Sherwin-Williams Industrial and Marine Coatings group serves North America with a broad line of high-performance coatings, comprehensive technical service, and the industry's largest distribution network. Relying on more than 135 years of experience in formulating industrial coatings, the group provides cost-effective solutions for applications where extreme corrosion, abrasion and chemical attack are present. Visit Sherwin-Williams on the World Wide Web at www.sherwin-williams.com