Acrylic Modified Polyester Resin is used for coating surfboards.
Press Release Summary: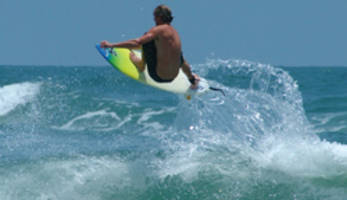 Silmar® SIL66BE-2880 has undergone QUV tests is suitable for surfboard laminating. Formulated to be tough, resin minimizes occurrence of compression dimples and exhibits impact resistance that helps reduce stress and deck cracks. Product cures water clear and also exhibits accelerated wet out of glass.
---
Original Press Release:
Interplastic Corporation Offers a New Silmar® Surfboard Resin
St. Paul, MN — Daryl Francis, Business Manager - West, announced today that Interplastic Corporation is offering a new acrylic modified polyester surfboard resin. "We are very excited about our new product, SIL66BE-2880, which has been tested by professional team riders in international competitions and a first place was won on a board using our new product", says Francis.

QUV tests have been performed on this product and have confirmed that SIL66BE-2880 significantly outperforms commercially available resins used for surfboard laminating. It has been reported that the product is tougher, with less compression dimples than the top selling surfboard resin and has improved impact resistance to reduce stress and deck cracks.

Glassers have reported the product is user friendly with a rapid wet out of the glass. The product cures water clear with a whiter look than other resins available on the market. Silmar surfboard resins were developed and are still manufactured in Hawthorne, California since 1961. Interplastic is proud to launch this new product while celebrating 50 years of SIL66BQ-249A, the largest selling surfboard resin in the world.

About Interplastic Corporation
Interplastic Corporation is a specialty chemical company with its headquarters in St. Paul, Minnesota. The company focuses on the production and sale of unsaturated polyester and vinyl ester resins, gel coats, putties and colorants for the composites and cast polymer industries. Interplastic is ISO 9001:2008 and ISO 14001:2004 certified. Interplastic Corporation is a subsidiary of IP Corporation, a specialty chemical company with its headquarters in St. Paul, Minnesota.

For more information contact:
Michelle Allshouse
Marketing Communications
IP Corporation
651.481.6860
mallshouse@ip-corporation.com www.interplastic.com
More from Thermal & Heating Equipment