Acrylic Adhesive joins aluminum materials.
Press Release Summary: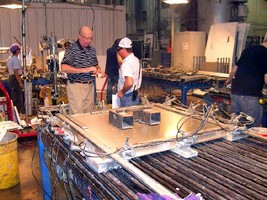 With LORD Accelerator 19GB Gray mix-in curative, LORD 400 Series Acrylic Adhesive will bond variety of prepared or unprepared aluminum materials. Accelerator allows precise control of adhesive bondline thickness due to its content of 0.01 in. dia glass beads. Used for cars, trucks, specialty vehicles, and boats, cured adhesive distributes stress, acts as sealant, helps prevent corrosion, and maintains original mill finish of exterior surface of thin panels.
---
Original Press Release:

Lord Corporation Introduces New Acrylic Adhesive For Joining Aluminum Materials



(CARY, NC - Jan. 19, 2007) LORD Corporation - a pioneer in specialty structural adhesives, polyurethane coatings as well as electronic, vibration and noise control solutions - has announced the launch of a LORD Gray 400 Series Acrylic Adhesive.

Developed specifically to meet the needs of customers bonding aluminum, the mixed adhesive is gray in color. The adhesive system, which consists of the combination of LORD Accelerator 19GB Gray mix-in curative with the standard LORD 400 series Acrylic Adhesives, will bond a variety of prepared or unprepared aluminum materials. LORD Accelerator 19GB Gray allows precise control of adhesive bondline thickness due to its content of glass beads of 0.01-inch (0.025 cm) diameter. The cured adhesive features the same performance characteristics of the other products in LORD Corporation's 400 series of adhesives such as excellent adhesion to unprepared metals, corrosion resistance, strength and toughness.

According to Scott Miller, LORD Industrial Adhesives & Components Market Manager, LORD Accelerator 19GB Gray was created to offer existing customers an easy and dependable means to structurally adhere aluminum materials using an adhesive that blends in with the surface's color. One customer, 4-Star Trailers - one of the nation's leading manufacturers of custom aluminum horse trailers - has already integrated the adhesive into their product process.

"We chose adhesives formulated by LORD Corporation after reviewing the motives of large automotive corporations choosing them for bonding roof and door panels," said Butch Patchell, Manager of Research and Development for 4-Star Trailers. "Attributes such as impact resistance, vibration and noise dampening as well as superior strength were among those cited, which is exactly what our customers want."

Proven in a variety of end-use markets - including more than 50 million cars, trucks, specialty vehicles and boats worldwide - structural adhesive bonding is an established joining method. The benefits of structural bonding have been widely touted for decades and are best summarized building a better product, faster, more simply and with less cost. When compared to mechanical fasteners and welding, structural adhesives widely distribute stresses, act as a sealant, reduce noise and vibration, offer excellent durability, help prevent corrosion and maintain the original mill finish quality of the exterior surface of thin panels. Cost savings can be significant: while welding requires skilled operators, bonding simply requires good operators.

Although strength and durability are key, 4-Star also sought a more efficient and cost-effective solution. Since integrating adhesives into their door assembly, Patchell said, 4-Star has realized tremendous savings in labor and materials. Not only has 4-Star been able to reduce labor by 50 percent, but the switch from rivets, adhesive tape and welding to adhesive bonding also results in savings for 4-Star. The savings enables 4-Star to reinvest in improved designs for their hinges and door jambs. Because of this success, 4-Star is experimenting with bonding the floor panels. In addition, the adhesives are expected to be a quieter solution, which is important in reducing the stress horses experience during transport.

About LORD Corporation
With headquarters in Cary, N.C., and sales in excess of $550-MM, LORD Corporation is a privately-held company that designs, manufactures and markets devices and systems to manage mechanical motion and control noise and vibration; formulates, produces and sells general purpose and specialty adhesives and coatings; and develops products and systems utilizing magnetically responsive technologies. With manufacturing in eight countries and offices in more than 15 major business centers, LORD Corporation employs more than 2,400 worldwide. Visit www.lord.com for more information.

More from Cleaning Products & Equipment