AcroPack® Series mPCIe Boards are compliant to RoHS standards.
Press Release Summary: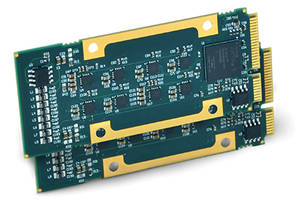 AcroPack® Series mPCIe Boards are offered in AP225 and AP235 models. Units come with 12 or 16 bit digital-to-analog converter. Units are suitable for scientific development labs, military and aerospace applications, the defense industry and automation applications. Boards feature down-facing plug-in100 pin connectors provide connection for I/O without any cabling. Units share 64K sample memory for waveform storage.
---
Original Press Release:
Acromag's New High-Speed D/A Converter Voltage Waveform Output Mezzanine Board
AcroPack PCIe Bus Interface boards drive up to 16 devices with continuous waveforms output from onboard memory without host intervention.
Acromag announced today an addition to their PCIe-based AcroPack® Series. The AP225 offers a 12-bit D/A converter and the AP235 features a 16-bit D/A converter voltage waveform output model. These mPCIe (Mini PCI Express) based boards provide output signals to drive up to 16 devices. Each output channel has its own 12 or 16-bit digital-to-analog converter (DAC). The benefit of individual DACs is they are faster, and they eliminate glitches typically caused by the reacquisition process of sample and holds found on multiplexed output boards. A 64K sample memory is shared between the sixteen channels for waveform storage on board. A down-facing plug-in 100 pin connector ensures a secure connection for the I/O without any cabling. These modules plug into AcroPack® PCIe, VPX, and XMC carriers in any combination for embedded applications running on Linux®, Windows®, or VxWorks® operating systems. AcroPack AP225 and AP235 modules start at less than $1,100 and carriers at $750.
For easy integration of the AcroPack modules with real-time software application programs, Acromag offers C libraries for Windows®, Linux® and VxWorks® systems. The libraries provide generic routines (source code included) to handle reads, writes, interrupts, and other functions. Demonstration programs enable the developer to quickly exercise the I/O modules before attaching the routines to the application program. This diagnostic tool can save hours of troubleshooting and debugging.
"We are pleased to add the AP225 and AP235 modules to the product platform," stated Russell Nieves, Acromag's Vice President of Sales. "Continued expansion of offerings is critical to providing the capabilities our customers require to meet the latest technological challenges and we at Acromag are committed to providing them with the best solutions possible."
This COTS line of AcroPacks are SWaP-C optimized, ROHS compliant and ideal for scientific development labs, military and aerospace applications, the defense industry and automation applications.
About Acromag
Founded in 1957, Acromag, Inc. designs and manufactures high-tech industrial electronics. They are an international corporation headquartered near Detroit, Michigan with a global network of sales representatives and distributors. Acromag offers a complete line of embedded computing and I/O solutions including general purpose I/O boards, single-board computers, FPGA modules, embedded computers, COM Express products, mezzanine modules, wiring accessories, and software. Industries served include military, aerospace, manufacturing, transportation, utilities, and scientific research laboratories.
For more information about Acromag products, call Inside Sales at (248) 295-0310 or Marketing Communications at (248) 295-0866. The website is www.acromag.com.
Contact This Company Download Spec Sheet
More from Controls & Controllers