Acoustic Testing Software offers acoustics prediction/modeling.
Press Release Summary: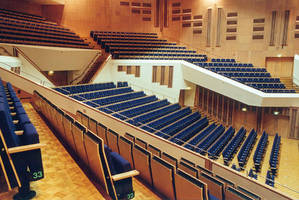 ODEON v10 room acoustics prediction and auralization software features full orchestra music for simulated room acoustic testing. Recordings include each orchestra member playing 4 different pieces of music, allowing user to simulate orchestras of different sizes and with different spatial configuration. Filters, equalizers, and delays are integrated as well as visual displays like near-field radiation pattern, far-field balloon, and SPL coverage of direct sound on audience area.
---
Original Press Release:

Musical Modelling



Bruel & Kjaer's latest room acoustics prediction and auralisation software - ODEON Version 10 - has a range of significant enhancements, including full orchestra music for simulated room acoustic testing.

The high-quality, anechoic recordings, courtesy of Helsinki Technical University, contains each orchestra member playing four different pieces of music. This library allows the user to simulate symphony orchestras of different sizes - and with different spatial configuration. Each musician can be placed separately and mixed into the auralisation of all the musical instruments.

As array loudspeakers and beam-steered arrays are typically used in large open spaces ODEON Version 10 (Auditorium and Combined) makes it possible for the sound tester to model or import their own arrays, to see how they interact in different rooms.

All necessary filters, equalizers and delays are included in the ODEON modelling. The visual displays include the near-field radiation pattern, far-field balloon and the SPL coverage of direct sound on the audience area. Support for array loudspeakers makes ODEON ideal for testing room acoustics and PA design.

For more information, please contact Bruel & Kjaer UK on 01438 739 000.

About Bruel & Kjaer

Bruel & Kjaer is a world-leading manufacturer and supplier of sound and vibration solutions for use in a wide range of applications including: environmental noise measurements, building acoustics, vibration measurements and quality control for use in the automotive, aerospace and consumer industries, as well as by local authorities.

We design and manufacturer sound level meters, microphones and accelerometers, conditioning amplifiers, calibrators, noise and vibration analysers and software. To see our full range and for more information, please visit www.bksv.co.uk or contact our sales team: telephone +44 (0) 1438 739 000 or email: ukinfo@bksv.com

Bruel & Kjaer also runs a variety of training courses throughout the year, from basic introductions on noise and it's effects to more specialised classes teaching customers how to get the most out of their equipment. To see our full training course calendar, visit:
http://bksv.co.uk/Courses/Training%20Courses.aspx

Free, online training courses - conducted by our expert engineers - run throughout the year too. For registration details and the latest planned web training sessions, visit: bksv.co.uk/Courses/Web%20Courses.aspx

Bruel & Kjaer UK has its own Service Centre which is UKAS accredited to the international standard ISO/IEC 17025, ensuring traceable or accredited calibration for equipment. To book a service or for more information, please contact our service department on +44 (0) 1438 739 100 or visit: bksv.co.uk/ServiceCalibration/CalibrationService.aspx

Bruel & Kjaer has 1150 employees, with sales offices in 55 countries. Bruel & Kjaer is a subsidiary of UK-based Spectris plc (www.spectris.com) which has annual sales of £787m and employs around 6,000 people worldwide in its 13 business units.

For additional information please contact:

Heather Wilkins

Marketing Coordinator

Bruel & Kjaer UK Ltd

Telephone: 01438 739 000

Web: www.bksv.co.uk

Email: heather.wilkins@bksv.com

More from Laboratory and Research Supplies and Equipment