Pressure Sensors / Detectors / Transducers
Acoustic Sensor features European ATEX II 3D approval.
Press Release Summary: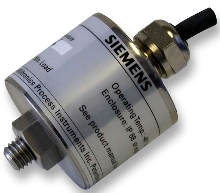 Used for continuous solids flow detection, SITRANS AS 100 is certified for use in hazardous areas and conditions where explosive dust may be present. It detects changes in high-frequency, structure borne sound waves from equipment and materials in motion, reacting instantly to changes in solids flow to warn of blockages, product absence, or equipment failure. Unit features 0-10 Vdc analog output, which works with SITRANS CU 02 controller or user's PLC.
---
Original Press Release:

Sitrans AS100 Acoustic Sensor Gains ATEX Approval


SPRING HOUSE, Pa., (July, 2005) - Siemens Energy & Automation announces that the Siemens SITRANS AS 100 Acoustic Sensor has received European ATEX II 3D approval. This approval certifies this device for use in hazardous areas and conditions where explosive dust may be present.

SITRANS AS 100 is a high frequency acoustic sensor for continuous solids flow detection. It detects changes in high frequency, structure borne, sound waves from equipment and materials in motion. It reacts instantly to changes in solids flow to warn of blockages, product absence, or equipment failure such as burst filter bags. The 0-10 V DC analog output works with the SITRANS CU 02 controller or the customer's PLC to alert to conditions of high flow, low flow, or no flow. Changes in flow are immediately detected enabling operators to take early preventative action and avoid costly damage or unscheduled downtime.

Easily mounted on the outside of chutes, pipes, and fan housings, SITRANS AS 100 is ideal for production monitoring of fine powders to large granular material in hazardous or hygienic environments. Common applications also include pneumatic conveyors or aerated gravity flow systems. With no moving parts and a stainless steel housing sealed against dust and moisture, this non-invasive unit requires little or no maintenance.

Operators can maintain system efficiency because the SITRANS AS 100 provides them with constant data. SITRANS AS 100 is a cost-effective and reliable solution for process protection.

For more information, please go to https://pia.khe.siemens.com/index.asp?Nr=5875

Siemens Energy & Automation Inc. is one of Siemens' operating companies in the U.S. Headquartered in the Atlanta suburb of Alpharetta, Ga., Siemens Energy & Automation manufactures and markets one of the world's broadest ranges of electrical and electronic products, systems and services to industrial and construction market customers. Its technologies range from circuit protection and energy management systems to process control, industrial software and totally integrated automation solutions. The company also has expertise in systems integration, technical services and turnkey industrial systems. For more information: www.sea.siemens.com.

Siemens AG (NYSE:SI) is one of the largest global electronics and engineering companies with reported worldwide sales of $91.5 billion in fiscal 2004. Founded more than 155 years ago, the company is a leader in the areas of Medical, Power, Automation and Control, Transportation, Information and Communications, Lighting, Building Technologies, Water Technologies and Services and Home Appliances. With its U.S. corporate headquarters in New York City, Siemens in the USA has sales of $16.6 billion and employs 70,000 people throughout all 50 states and Puerto Rico. Thirteen of Siemens' worldwide businesses are based in the United States. With its global headquarters in Munich, Siemens AG and its subsidiaries employ 440,000 people in 190 countries. For more information on Siemens in the United States: www.usa.siemens.com.

Visit us online at www.sea.siemens.com/ia

More from Electrical Equipment & Systems