Achromatic Lenses offer 500-1,100 nm broadband transmission.
Press Release Summary: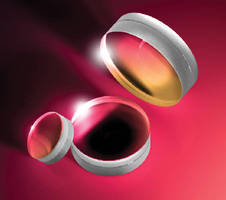 Consisting of 2 optical components cemented together to form doublet, TECHSPEC® YAG-BBAR Coated Achromatic Lenses provide alternative to air-spaced focusing doublets. Lenses are available in 12 models with diameters from 6.25–25 mm and focal lengths from 12.5–200 mm. With surface quality of 40-20, units are optimized for less than 0.25% absolute reflectivity at 532 nm and 1,064 nm. Lenses can be used to focus Nd:YAG lasers and correct on-axis spherical and chromatic aberrations.
---
Original Press Release:

TECHSPEC® YAG-BBAR Coated Achromatic Lenses Correct on-axis Spherical and Chromatic Aberrations



Excellent broadband transmission from 500 - 1100 nm



Barrington, N.J. - Edmund Optics (EO), the premier provider of optical components, introduces new TECHSPEC® YAG-BBAR Coated Achromatic Lenses. These versatile lenses consist of two optical components cemented together to form a doublet and provide a low-cost alternative to air-spaced focusing doublets. They are an ideal tool to correct on-axis spherical and chromatic aberrations.



High transmission and low reflection

YAG BBAR Coated Achromatic Lenses



TECHSPEC YAG-BBAR Coated Achromatic Lenses feature a broadband anti-reflective (BBAR) coating with maximum transmission from 500 - 1100 mm. With a surface quality of 40-20, the lenses are optimized for less than 0.25% absolute reflectivity at 532 nm and 1064 nm. 



Ideal for focusing Nd: YAG lasers



TECHSPEC YAG-BBAR Coated Achromatic Lenses are specifically designed to minimize the spot size of polychromatic illumination inside the usable wavelength range, 500 - 1100 nm. They are also ideal for use when focusing Nd: YAG lasers, particularly when the system uses an alignment beam.



Twelve models with focal lengths from 12.5 to 200 mm



TECHSPEC YAG-BBAR Coated Achromatic Lenses are available in twelve models, with diameters from 6.25 mm to 25 mm, and focal lengths from 12.5 mm to 200 mm. The RoHS-compliant lenses are manufactured using an N-BK7/N-SF5 substrate. TECHSPEC YAG-BBAR Coated Achromatic Lenses are in-stock and available for immediate delivery for fast turnaround and excellent value.



Please stop by the Edmund Optics Booth #1612 at Photonics West, February 16-18, 2016 in San Francisco, to learn more about TECHSPEC YAB-BBAR Coated Achromatic Lenses.



About EO:

Edmund Optics® (EO) is a leading producer of optics, imaging, and photonics technology for R&D, electronics, semiconductor, pharmaceutical, biomedical, and military markets around the globe. EO is the world's largest supplier of off-the-shelf optical components. Customers can purchase items by contacting EO at 1-800-363-1992, via the catalog, or via the website at www.edmundoptics.com



Company Contact:

Kirsten Bjork-Jones

Director Global Marketing Communications

Edmund Optics®, Inc.

101 East Gloucester Pike

Barrington, NJ 08007 U.S.A.

Phone: 1-800-363-1992

Fax: 1-856-573-6295

email: kbjork-jones@edmundoptics.com



European Contact:

Agnes Huebscher

Director European Marketing

Edmund Optics

Zur Giesserei 8

76227 Karlsruhe, Germany

Tel.:   +49 (0)721-62737-38

Fax:   +49 (0) 721 6273750

E-Mail:   AHuebscher@edmundoptics.de

More from Textile Industry Products