ACH Foam Technologies' Foam-Control® Geofoam Keeps People Moving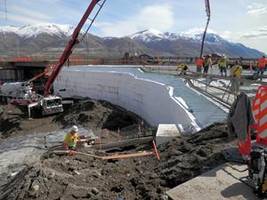 DENVER, Feb. 27, 2018 - When unstable geological conditions outside of Brigham City, Utah required an alternative structural-fill for the embankments of a highway overpass, ACH Foam Technologies' Foam-Control® Geofoam proved to be the ideal solution.
"Over 30 years, I've seen many engineering innovations," says Betty Purdie, P.E., project manager for one of Utah's largest builders of heavy highway projects. The project added two lanes of traffic on a bridge adjacent to the existing overpass. When settlement and global stability calculations indicated the weight of the new embankment built with soil would adversely impact the original bridge, engineers turned to geofoam as an alternative fill to reduce load settlement and decrease the driving force in the stability calculations. Lightweight and versatile, Foam-Control® Geofoam is made from expanded polystyrene, a strong, closed-cell material known for incredible compressive strength used on infrastructure projects around the world.
"Using geofoam to support the embankments was a first for me," says Purdie. Developing the exact configuration of the blocks to maximize strength while minimizing waste on a large, complex project like the Brigham City Bridge, benefits from careful scrutiny. Purdie worked with both ACH Foam Technologies and geofoam design expert, Marvin Cook of Oracle Construction to review the specification and determine how to configure the blocks to best support the weight of the roadway and live traffic loads while also being mindful of the budget. Although Geofoam fill is more expensive than soil, savings can be achieved in time and convenience.
Working with two different grades (EPS22 and EPS29) Purdie and ACH Foam Technologies calculated the precise material requirements, placement pattern, and delivery schedule to ensure the product was available well-ahead of installation. As the geofoam arrived, the embankments were built using only manual labor without specialized or heavy equipment, over just a few weeks. Though most blocks were pre-cut prior to delivery, some block customization was required, which was done with a hand-held hot wire cutter. Once the embankments were built, they were covered with a reinforced concrete slab and finally the roadway above.
"Working with ACH Foam Technologies' Foam-Control® Geofoam we completed two phases of bridge construction over I-15 without ever having to shut the Interstate down," Purdie says proudly. Though traffic did have to be diverted around the construction site, the project kept people moving, which was a primary goal.
Related