ACE Installs Second KISS 103 Selective Soldering System at Computrol Facility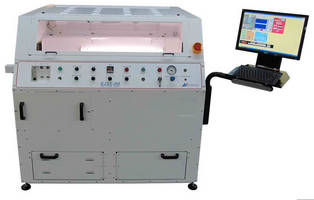 ACE Production Technologies announces the installation of a second KISS 103 Selective Soldering System at Computrol's Meridian, Idaho manufacturing facility. Additionally, the company purchased a spray fluxer for mini-wave applications for both its new and existing KISS 103 Selective Solder units. Computrol, Inc. is a world-class provider of mid- to low-volume, high-mix electronics manufacturing services to OEMs.

"After realizing the process and quality benefits from the first ACE Selective Soldering system, we quickly moved to add a second ACE Production KISS 103 for our tin/lead products," said Eric Ames, Manufacturing Engineer at Computrol. "We are seeing the same time improvements in not masking or hand soldering the boards as well as consistent soldering quality."

Computrol's purchase of the first KISS 103 eliminated masking and hand soldering, resulting in significant time savings and leading to the decision to invest in a second unit. The production of boards that required skilled employees to hand solder/fountain now are being run on the KISS 103, allowing the skilled employees to focus on other higher-level work. As a result, Computrol is experiencing substantial improvements in time standards as well as consistent quality of the boards soldered on the KISS 103.

The fully configured KISS-103 features the new high-speed Z-axis, providing a 20 percent increase in production speed. The KISS 103 comes standard with universal PCB location rails with motor-driven adjustment, a heated Nitrogen inerting system, manual fiducial alignment and the KFS-DJ Automated DROP JET Fluxing System.

The KISS-103 is an automated, simple to use selective soldering machine using ACE's proven 'traveling mini-solder wave". It eliminates the high labor cost of hand-soldering through-hole components on SMT boards without disturbing nearby SMT components. This process overcomes the limitations of operator-dependent soldering with a truly flexible automated flux application and molten solder delivery system.

The KISS-103 couples high throughput with precise process controls. The programmable features provide the tools to set all process parameters, including immersion depths, pre-heat dwells, travel distances and speeds, solder temperature and wave height. Once set, the system will repeat precisely.

The KISS-103 will process a 18" x 24" board entirely without intervention.

About ACE Production Technologies Inc.

ACE Production Technologies is a designer and builder of simple, affordable selective soldering, lead tinning, and related systems suitable for lead-free electronics assembly. ACE's line of rugged, reliable selective soldering systems includes the KISS 101, KISS-102, KISS-103, and the KISS-104 models; all feature lead-free compatible solder pots and are ideal for low to medium volume assembly. For more information, visit www.ace-protech.com, or contact the company at 3010 N. Industrial Park, 1st Street, Spokane Valley, WA 99216; Tel. 509-924-4898, e-mail sales@ace-protech.com.


More from Computer Hardware & Peripherals