AccurET VHP Controller features High Speed Encoder Interfaced TTL.
Press Release Summary: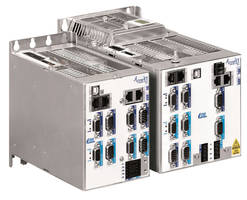 Minimizing errors and settling time, AccurET VHP Controller allows user to reach sub nanometer position stability and 100dB signal to noise ratio. Featuring high position loop bandwidth, unit allows compensation for friction, viscosity and cogging. Operating at 48 VDC and 1.5 Cont./3 Peak Arms to 7 Cont./30 Peak Arm current value, product is used in process control, wafer inspection, lithography, wafer and die level packaging.
---
Original Press Release:
ETEL Announces New AccurET VHP Controller
Especially Useful for Semiconductor and Electronics Manufacturing
ETEL is proud to announce their newest line of motion control electronics: the AccurET VHP (Very High Performance) controllers. Expanding upon the already high performance of ETEL's established AccurET controller, the AccurET VHP has been designed to control the most demanding applications when it comes to position stability and speed accuracy while still utilizing the decentralized architecture that allows its controllers to handle up to 63 axes without slowing down any processes. The "VHP" part allows for higher signal-to-noise ratio allowing the most precise of axes within the Semiconductor and Electronics manufacturing processes to reach peak performance within a very compact box.
Having served the Semiconductor industry for over 25 years, ETEL has been applying its experience of this industry's demands to refine the features in their own controls, and its AccurET is the accumulation of this knowledge. One example of this is the high position loop bandwidth allowing for advanced feed forward and better compensation for friction, viscosity and cogging.
Along with a trajectory filter function, allowing for advanced vibration suppression to minimize errors and reduce settling time, the AccurET is one of the few controllers advanced enough to reach the nanometer levels of precision and synchronization that today's semiconductor industry demands. The AccurET VHP expands upon these features and allows the user to reach sub-nanometer position stability with extremely low tracking errors, reaching a signal-to-noise ratio of 100dB. ETEL's expertise delivers high levels of current that would be limited in traditional linear amplifier architectures.
The AccurET VHP can be used alongside any AccurET controllers because whereas the standard AccurET can operate at 600 VDC and a current value of 15 Cont./40 Peak Arms, the AccurET VHP operates at 48 and 100 VDC with currents as low as 1.5 Cont./3 Peak Arms and up to 7 Cont./30 Peak Arms. Both accept encoder signals of analog 1 Vpp, Absolute EnDat 2.1 and 2.2, as well as TTL with its High Speed Encoder Interfaces (HSEI) which enables extremely high resolution position feedback in combination with high speed motion.
The AccurET VHP has been successfully used in areas such as process control, wafer inspection, lithography, wafer and die level packaging, along with test and control equipment. All this leads to a variety of competencies which makes ETEL confident that, along with being implemented into its own motion systems, it can increase the capabilities of the users machine ensuring keeping up with the competition as the industry moves forward.
ETEL S.A. is based in Switzerland with exclusive North American distribution through HEIDENHAIN CORPORATION at 333 E. State Parkway, Schaumburg, IL 60173. As a leading international supplier of direct drive and motion control components and integrated systems, ETEL supports high tech industry with linear motors, torque motors, positioning stages, and motioncontrollers/systems.
For more information on ETEL's products and services, visit www.etelusa.com or contact Product Specialist Brian Zlotorzycki at HEIDENHAIN at 847-755-5569 or bzlotorzycki@heidenhain.com.
More from Software