Accurately Measure Hydrocarbon (Oil/Grease) Levels in Produced Water in Under 15 Minutes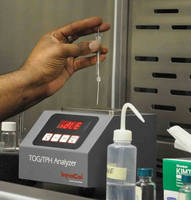 Determining total hydrocarbon or oil/grease levels to ensure compliance with regulatory permit requirements for discharging produced water is a worldwide problem facing the oil and gas industry. Ensuring compliance with these regulations and avoiding fines for non-compliant discharges requires more frequent wastewater measurements to determine the total hydrocarbon concentration. The portable InfraCal TOG/TPH Analyzers manufactured by Wilks Enterprise, Inc. have been specifically designed for easy, on-site measurement of the hydrocarbon (oil/grease) concentration level in water in under 15 minutes and are built for years of dependable operation.

InfraCal TOG/TPH Analyzers, based on field-proven infrared technology, enable non-technical users to obtain accurate measurements with a few simple steps. Measurement data correlates with EPA Method 1664 and ASTM Method D7066. Currently, there are upwards of 2,500 InfraCal Analyzers in worldwide operation - many on oil and gas drilling platforms. Their performance and reliability have made them the industry standard for determining hydrocarbon (oil/grease) concentration levels in water - both on-shore and off-shore. Regular on-site measurements eliminate the wait for off-site laboratory results to ensure wastewater treatment systems are operating properly and effluent discharges are in compliance.

For further information on the InfraCal TOG/TPH Analyzers for on-site measurement of hydrocarbon concentrations in water, please contact: please contact: Wilks Enterprise, Inc., 25 Van Zant Street, Ste. 8F, E. Norwalk, CT 06855 TEL: 203-855-9136; FAX: 203-838-9868; Email: info@wilksir.com; or the information can be downloaded from the Wilks website: http://www.wilksir.com/oilgrease-analyzers

About Wilks Enterprise, Inc.

Headquartered in E. Norwalk, Connecticut, Wilks Enterprise specializes in easy-to-use, portable mid-infrared analyzers for specific measurement applications. All Wilks analyzers have been specifically designed for on-site use by non-technical personnel and are used for a wide variety of applications in the biofuels, environmental, petrochemical, quality control, and manufacturing industries. These portable analyzers enable analytical measurements to be made in the field, helping to eliminate the wait for off-site lab results.

For further press information or images, please contact Carol Tunick, VP - Marketing, at 203-855-9136 or email: ctunick@wilksir.com

InfraCal and Wilks are trademarks of Wilks Enterprise, Inc.


More from Fluid & Gas Flow Equipment