Accumulator Safety Blocks help satisfy various safety standards.
Press Release Summary: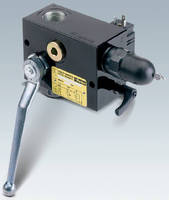 Designed for use critical hydraulic applications, SBA Series makes it possible to protect, isolate, and discharge hydraulic accumulator from single unit. Each incorporates shut-off, pressure limiting, and pressure release feature in housing rated for working pressures to 350 bar. Modular in design, product uses integrated manifold approach to eliminate plumbing and leak points. All safety blocks have 2 maintenance ports and can be used with bladder, piston, and diaphragm accumulators.
---
Original Press Release:

New Accumulator Safety Blocks from Parker Help Manufacturers Satisfy PED Compliance, Improve Operational Safety, Minimize System Build/Maintenance Times, Reduce Overall Costs



ROCKFORD, Ill. - An innovative range of accumulator safety blocks is now available from Parker Hannifin, the global leader in motion and control technologies.

Designated the SBA Series, the accumulator safety blocks are designed for use in a wide variety of critical hydraulic applications to benefit end-users in several ways including:

Compliance (for systems where shut-off, pressure limiting, pressure release and measurement point functions are required on accumulators)

Fit (compact design makes them ideal for applications where space is limited)

Productivity and Uptime (blocks help speed-up maintenance procedures/reduce system downtime)

Parker SBA Safety Blocks represent a single-unit solution for manufacturers tasked with European Pressure Equipment Directive (PED) 97/23/EC compliance. The directive states a safety device must be fitted to all accumulators to provide a shut-off facility, pressure limiting and pressure release function as well as measurement points. A CE-certified relief valve is also included on all units to satisfy PED compliance.

"In comparison with traditional safety systems, the new SBA Series makes it possible to protect, isolate and discharge a hydraulic accumulator from a single unit," points out Bryan McGehee, Application Engineer, Parker Hannifin Corporation, Global Accumulator Division, "Each SBA Safety Block incorporates a shut-off, pressure limiting and pressure release feature in a compact and robust housing rated for working pressures up to 350 bar. As leaks are also a safety concern in any hydraulic system, the integrated manifold approach of our product provides added value through the elimination of plumbing and leak points."

Modular in design, the new SBA Safety Blocks feature a tamper-proof pressure relief valve that can be specified in a wide range of pressure settings. The valve can be easily changed without having to disconnect or remove the block. In addition, the integrated shut-off valve allows an attached accumulator to be isolated and then safely discharged to a tank. This can be done directly using a threaded, manually operated discharge valve, which is standard on all safety block models. As an option, the accumulator can also be discharged automatically via an integrated two-way solenoid-operated cartridge valve. For diagnostic purposes and continuous pressure monitoring, all SBA Safety Blocks have two maintenance ports.

New SBA Safety Blocks are suitable for use with all types of accumulators - bladder, piston and diaphragm. Their compact, multi-function design saves space and reduces connections. A full range of adapters is available to suit all common port sizes and styles including SAE and BSPP straight port. Three different sizes - NG10, NG20 and NG32 - are available in a durable corrosion resistant finish to suit most applications.

For more information about SBA Series accumulator safety blocks from Parker, call 815.636.4100 or visit www.parker.com/accumulator.

About Parker Hannifin's Global Accumulator Division
Parker Hannifin's Global Accumulator Division supplies the global marketplace with the broadest line of hydraulic accumulators and accessories in the industry. For more than 50 years, Parker piston and bladder style accumulators have been improving the performance of hydraulic systems by prolonging equipment life, lowering operating costs and reducing downtime. For more information, visit www.parker.com/accumulator.

With annual sales exceeding $10 billion in fiscal year 2009, Parker Hannifin is the world's leading diversified manufacturer of motion and control technologies and systems, providing precision-engineered solutions for a wide variety of mobile, industrial and aerospace markets. The company employs approximately 52,000 people in 48 countries around the world. Parker has increased its annual dividends paid to shareholders for 53 consecutive years, among the top five longest-running dividend-increase records in the S&P 500 index. For more information, visit the company's web site at www.parker.com, or its investor information site at www.phstock.com.


More from Machinery & Machining Tools