Accumulating Conveyor has roller-less design.
Press Release Summary: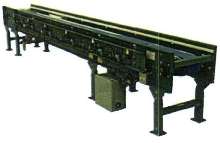 CCEZ rollerless accumulation conveyor, designed for beverage industry applications, moves cases on plastic, modular belting. Cases are accumulated by lowering belt, allowing products to come to rest on polyethylene guides. Conveyance and accumulation methods provide ability to move and control cases at higher speeds with no product marking. No rollers results in no lithographic buildup, and minimal components lend to quieter operation.
---
Original Press Release:
Hytrol's Model CCEZ

The CCEZ is a high throughput rollerless accumulation conveyor desgined with the beverage industry in mind. Cases are conveyed on plastic modular belting, and are accumulated by simply lowering the belt and allowing the cases to come to rest on polyethylene guides. This method of conveyance and accumulation provides the ablity to move and control cases at high speeds with no product marking. The absence of roller means no lithograhic buildup, fewer components and a quieter solution.

For more information contact:

HYTROL Conveyor Company, Inc.

Telephone: (870) 974-5642

Fax: (870) 931-1877

E-mail: info@hytrol.com

Website: www.hytrol.com
More from Material Processing