Accsense Temperature Monitoring Kit provides automatic data backup.
Press Release Summary: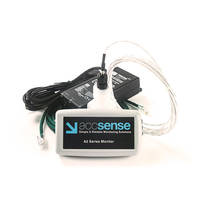 Accsense Temperature Monitoring Kit is used for monitoring and recording temperature in refrigerators, freezers, walk-in coolers or ultra-low freezers. Supporting low temperatures up to -200°C, unit sends alarm notifications on power outages or temperature. Allowing users to receive alarms through email, cell phone, pager, or landline, kit consists of A2-05 LAN-wired sensor pod, E1-21 temperature probe, E1-35 glycol temperature buffer and AC adapter.
---
Original Press Release:
New LAN-Wired Temperature Monitoring Kit from Accsense
Monitor Temperature in Refrigerators or Freezers with Alarm Capability
Do you need an easy way to monitor product temperature in Refrigerators, Freezers and Walk-in Coolers? CAS DataLoggers has an affordable and reliable solution. The Accsense Refrigerator/Freezer Monitoring Starter Kit includes everything you need to begin monitoring temperature, right out of the box! Forget about having to check the temperature yourself - our automated temperature monitoring systems protect your valuable product 24/7.
Gain Peace of Mind from Regulations and Audits!
Do you need a hassle-free way to monitor product temperature in Refrigerators, Freezers, Walk-in Coolers, Ultra-Low Freezers or Cryos? If you lose sleep worrying that your fridge or freezer might fail without you knowing until it's too late, an Accsense system can provide you with immediate notification.
With over 10,000 active users in Life Sciences, Medical, Food, and Industrial applications, Accsense offers a range of refrigerator and freezer temperature monitoring systems to meet any need or budget.
Accsense automated temperature monitoring systems continuously monitor and record temperature, send alarm notifications on temperatures or power outage, provide historical data for regulatory compliance, and offer you peace of mind.
Our LAN-Wired Refrigerator/Freezer Monitoring Kit includes:
Everything you need to start remotely monitoring temperature
Quick & easy setup straight out of the box
View data online via web browser
Download data for offline analysis
Receive alarms via email, cell phone, pager, or landline. Send alarms to multiple locations!
Power/Internet outage notifications
Completely secure, with automatic data backups
Remote Monitoring Solution:
Accsense remote monitoring systems automatically send data to a secure server for storage. Accsense also lets users set up powerful alarms which send out email, pager or phone notifications whenever temperature or other values go out of specification. These wireless monitoring systems also send out Power or Internet outage notifications, so for example you can get a heads-up if your storage unit loses power on the weekend.
Email, SMS and voice alarms for immediate notification
Support for temperatures as low as -200°C to support all applications
Support for FDA-compliant reporting
Users sign in using a standard web browser to retrieve reports and graphs, and can also modify the system configuration from anywhere an internet connection is available.
Our Kit includes:
A2-05 LAN-Wired Sensor Pod
E1-21 Temperature Probe
E1-35 Glycol Temperature Buffer
AC Adapter
Ethernet Cable
The Data Logger Experts:
At CAS DataLoggers we have the broadest range of products that you will find anywhere. We can offer you:
Models designed specifically for Medical and Life Science applications
Systems with online cloud-based software - view data anytime, anywhere
Compact devices for easy installation atop medical storage units
And more!
For more info on our selection of Refrigerator and Freezer Monitoring Systems, contact a CAS Data Logger Applications Specialist at (800) 956-4437 or visit our website at www.DataLoggerInc.com.
Contact:
Stew Thompson
Marketing Specialist
CAS DataLoggers
8437 Mayfield Rd.
Chesterland, OH 44026
Phone: 440-729-2570
Email: sthompson@dataloggerinc.com
More from Software