Accessories optimize tungsten grinder performance.
Press Release Summary: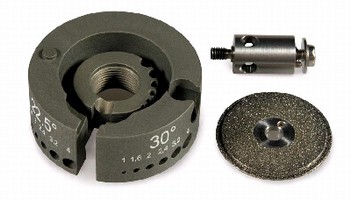 Suited for Triad(TM) Tungsten Grinder, Cutting Holder accessory safely cuts 0.040, 1/16, and 3/32 in. diameter tungsten to fixed length of 15/32, 33/64, 19/32, and 43/64 in. Double-Decker Kit allows second, rough-finish grinding wheel to be attached to grinder. Second wheel is included in kit and is intended for scrubbing and/or preparing larger diameter tungsten (3/32 or 1/8 in.). To prevent tungsten contamination, protective Dust Cover attaches to grinding head.
---
Original Press Release:

Weldcraft Offers New Accessories for its Versatile Triad(TM) Tungsten Grinder



APPLETON, Wis. April 8, 2008-To further enhance the performance of its highly versatile and accurate Triad(TM) (TTG Plus) tungsten grinder, Weldcraft offers three new grinder accessories: a tungsten cutting holder, a double-decker kit, and a protective cover.

The Triad tungsten grinder, which was released in June 2007, features a robust industrial-grade motor that provides consistent tungsten cutting and facing capabilities (up to 5/32-inch) for both orbital and handheld TIG welding applications.

Triad's first new accessory, an accurate and durable cutting holder, easily and safely cuts 0.040-, 1/16- and 3/32-inch diameter tungsten to a fixed length according to the requirements of specific TIG welding applications. Fixed cutting lengths include 15/32-, 33/64-, 19/32- and 43/64-inch (12, 13, 14 and 17 mm).

Weldcraft's double-decker kit eliminates the need and cost for additional equipment by allowing a second, rough-finish grinding wheel to be quickly and easily attached to the Triad tungsten grinder. This second wheel is included in the kit and is ideal for scrubbing and/or preparing larger diameter tungsten (3/32- or 1/8-inch). Welding operators can then use the existing standard finish wheel to smooth the tungsten, which helps improve arc-starting capabilities and ensures good weld penetration. The double-decker kit also features an additional grinding head. Similar to the standard Triad head, this one has precision-drilled entries that accommodate six different tungsten electrode diameters-0.040, 1/16, 5/64, 3/32, 1/8 and 5/32 inch-and includes four different grinding angles (15º, 18º, 22.5º and 30º).

To help welding operators maintain the cleanliness needed for optimal TIG welding performance and to prevent tungsten contamination, Weldcraft offers a protective dust cover that easily attaches to the Triad grinding head.

All Triad accessories are sold separately. For more information, contact Weldcraft at 800-752-7620 or 920-882-6800; fax: 920-882-6840; visit weldcraft.com; e-mail customerservice@weldcraft.com or write to Weldcraft Customer Service, 2741 N. Roemer Road, Appleton, WI 54911.

Weldcraft is the world's leading manufacturer of GTAW (TIG) welding torches and accessories. A broad line of premium products includes the unique Crafter Series, Legacy(TM) Series, MicroTig,(TM) Quick Connect System,(TM) WP Series, and Single Piece Collet/Collet Body.

More from Sensors, Monitors & Transducers