Access Control System suits machinery guarding applications.
Press Release Summary: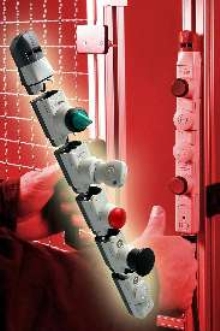 Modular eGuard enables mechanical trapped key interlocks and electrical safety gate switch interlocks to be integrated in one unit. It can connect to PLCs and mimic panels, or can be used on AS-interface network. Customizable for any application, system features self-configuring internal network, quick disconnect electrical connections, polymer body for corrosion resistance, and stainless wear parts.
---
Original Press Release:

Safety With Total Access and Control


Erlanger KY: Industrial safety specialist Fortress Interlocks is introducing a completely new approach to controlling access to hazardous machinery and equipment. Having identified the need for an intelligent, modular access and control system for machinery guarding applications, Fortress has developed eGard.

eGard is a compact and lightweight system that brings the functionality of interlocking to an area dominated by lower capability products. It enables a selection of modules including both mechanical trapped key interlocks and electrical safety gate switch interlocks to be integrated in one unit. In addition eGard enables simple machine controls to be included.

eGard is a fully modular system that simply clips together and is easily installed. Modules include mechanical locks, electrical locks, safety switches, service modules such as indicators and buttons, internal releases, emergency stops, and a selection of actuators suitable for both hinged and sliding doors. eGard can connect to programmable logic controllers (PLCs) and mimic panels, or can be used on an AS-interface network*.

There are over 4,000 billion combinations of modules possible. eGard can therefore be customized for every application, providing a single source of gate access hardware. eGard features patented mechanical and electrical connection between every module. It provides a complete gate access control system encompassing safe and standard I/O in one simple modular arrangement.

The internal network is self configuring, for ease of installation and reconfiguring. eGard is easily fitted to any machine and electrical connections are quick disconnected at one end, minimizing wiring. It is engineered for Category 4** applications and is international standards compliant. It is polymer bodied for corrosion resistance and has stainless wear parts for long life.

*AS-interface (AS-i) is a new cabling system that allows machinery safety equipment, such as access gate switch interlocks, to operate in parallel with standard machinery controls on a single network with a common communication protocol.

**Category 4 - High risk category defined by European machinery safety regulations EN954-1.

Company contact: Bill Glenn
Tel: (859) 578 2390 Fax: (859) 341 2302
E-mail: sales@fortressinterlocks.com
Web site: www.fortressinterlocks.com