Access Control System prevents tampering of safety guards.
Press Release Summary: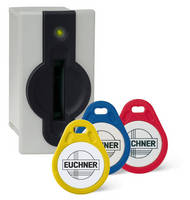 Featuring Electronic-Key with RFID transponder and Electronic-Key adapter with read unit, FSA version of EKS Light provides each key user with access and authorization profile. Transponder-based unit lets authorized users select operating mode by utilizing device such as selector switch or touch display, and device is reset to safe operating mode by removing Electronic-Key. It includes floating switched semiconductor output that can be used to form safe shut-down signal.
---
Original Press Release:

EKS Light FSA



The EKS Light from EUCHNER is a transponder-based access control system consisting of two components: an Electronic-Key with RFID transponder and an Electronic-Key adapter with integral read unit. The EKS Light was designed particularly for smaller, decentralized applications to permit reliable controlled access to individual machines or to entire installations there as well. The new FSA version of the EKS Light was specially developed to solve the widespread problem involving tampering of safety guards.

It is simple to operate. Every user receives an EKS Electronic-Key with a certain access and authorization profile. This Electronic-Key is required to access an object or machine protected by EKS Light FSA. The check integrated into the device releases access with a certain access level if the Electronic-Key is valid.

The new FSA version of the EKS Light was specially developed to solve the widespread problem involving tampering of safety guards. For this purpose, it was specifically expanded for safety applications in combination with the mode selection. The user is assigned the access rights via the EKS. He can then select the desired operating mode using an additional facility, such as a selector switch or touch display. Trained personnel are thereby specifically authorized to perform critical setup and maintenance work in a special, hazardous operating mode.

The FSA version features an additional floating switched semiconductor output that can be utilized to form a safe shut-down signal. For this purpose a safe evaluation must be included downstream. This characteristic allows the EKS Light FSA to be used in a safety-relevant manner as per Category 3 according to EN 13849-1. The machine is reset to a safe operating mode by removing the Electronic-Key.

Like all EKS Electronic-Key adapters from EUCHNER, the EKS Light FSA has also been conceived specifically for industrial use. In addition to the high degree of protection (IP67), its other impressive features are its robust, compact design and the option of placing the Electronic-Key on the installation during the work.

The EKS light FSA is available during Summer 2011.

EUCHNER USA Inc.

6723 Lyons Street

East Syracuse

NY 10357

SALES DEPARTMENT

Phone: +1-315-7010-315

Fax: +1-315-7010-319

info@euchner-usa.com

EUCHNER GmbH + Co. KG

Kohlhammerstraße 16

70771 Leinfelden-Echterdingen

Germany

KRETZSCHMAR Frank

Phone: +49-(0)711-7597-382

Fax: +49-(0)711-7597-385

Frank.kretzschmar@euchner.de

More from Laboratory and Research Supplies and Equipment