Access Control Software suits small to enterprise-size users.
Press Release Summary: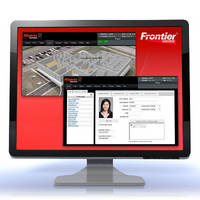 Featuring open architecture, Frontier Universe offers both Web browser-based and server-based technologies for securing transportation, commercial, education, government, healthcare, and industrial markets. Program offers integrated alarm management options, accommodates up to 128 card readers per processor, and supports up to 8 simultaneous card formats. With audio/video synchronization technology, program enables any analog, digital, or IP camera to link to Web server hardware.
---
Original Press Release:

Matrix Systems Unveils Frontier Universe Open Architecture Access Control System



Frontier Universe is a powerful, Web browser-based & server-based system for end users of all sizes in transportation, commercial, education, government, healthcare, industry and other markets.

MIAMISBURG, OhioMatrix Systems, a Miamisburg, Ohio-based turnkey security management solutions provider, offers Frontier Universe open architecture access control software for small to enterprise-sized customers. End users affected by antiquated legacy systems or under-performing manufacturer support structures now have an option because of Universes software compatibility with leading subsystem equipment manufacturers including Mercury Security and HID. The resulting system is backed by Matrix Systems single source responsibility guarantee and more than 30 years of superior training and customer support.

The feature-rich Frontier Universe system offers options of both Web browser-based or server-based technologies for securing transportation, commercial, education, government, healthcare, industry and other markets.

HID VertX, Mercury Security and existing Matrix Systems subsystem equipment that is designed to locally manage secure areas can compatibly report and transmit functions to Frontier Universes system level processor. Frontier Universe uses a single server, multiple servers or redundant servers to provide any specified level of system management.

The subsystem components and the head-end processor communicate through the facilitys TCP/IP network or via Web browser-based connectivity. The communication flexibility enables easy integration with third-party manufacturers of access control, time/attendance recording, alarm management, guard tour, visitor management, video cameras/DVRs and other security technology. This future proofing against premature obsolescence guarantees that end users can easily add video, biometrics, wireless or any future generations of security technology innovations.

System Installation and implementation is available through Matrix Systems installers and via its affiliate network. Matrix Systems provides engineering/application services and 24/7 customer support based on the companys 31 years of experience in access control equipment design, manufacturing, installation, and technical support. The company trains end users onsite, via Webinars or at Matrix Systems Miamisburg training center.

Frontier Universe can accommodate up to 128 card readers per processor. Adding controllers makes the system scalable to any number of doors, card readers and card holders.

Credential production workstations and operator terminals use industry standard PCs via the Internet. Frontier Universe offers a complete credential production system including an industry standard signature interface and printer. It supports up to eight simultaneous card formats. End users with excessive periodic badge printing demands, such as colleges during admission periods, can rely on Matrix Systems value-added services of credential production to help meet deadlines.

Unlike other access control systems with separate component features, Frontier Universe provides integrated alarm management options that enable custom-configurations for event-driven site management and response.

Frontier Universe also uses Digital Video Alarm Verification (DVAV) for secondary verification of an activity or non-activity associated with an alarm or system event. Digital Video Management allows end users to link their corporate network or self-design a local or WAN to bring video verification into their security management at a fraction of conventional DVR application costs.

Additionally, any analog, digital or IP camera can link to the Web server hardware because of Frontier Universes audio/video synchronization technology.
Frontier Universe also offers the following features:

o The system controls nearly any unconventional area such as elevators, outdoor fence gates, lockers, and pad-locked spaces.

o A user-friendly graphical screen offers easy-to-use functions.

o Inter-compatibility between Matrix Systems products allows Frontier Web Essentials end users to upgrade to Frontier Universe.

o Frontier Universe has one of the lowest cost-of-investments (COI) in the security industry.

o End users can cut initial costs by reusing and integrating existing access control and security equipment into the system.

For more information on Frontier Universe, Frontier Web Essentials, Frontier Standard and other Matrix Systems access control and security products, please visit www.matrixsys.com.

About Matrix: Matrix knows security. An industry leader committed to protecting people, property and information, weve provided our customers with superior security management solutions for more than three decades. Ranging from access control to biometrics, video management, wireless technology, credential production, and visitor management solutions, our products are built using open architecture standards and designed to grow with your existing security investments. But its our peoplefrom our cutting-edge technical partners to our unparalleled installation, training, and technical support staffwho truly make the Matrix difference. For more information, visit www.matrixsys.com or call 800-562-8749 x 2.

More from Non-Industrial Products