Access Control Software includes dynamic map functions.
Press Release Summary: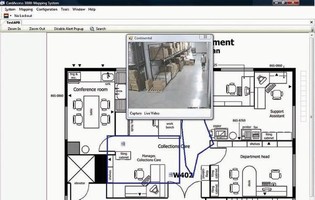 CardAccess® 3000 brings all security subsystems together into one graphical interface that can be viewed from Events Grids or from map view. Devices in system can be seen and checked from dynamic map for door status, system relays, readers, and input status. Dynamic maps are also integrated with CA3000 supported DVRs for viewing live video from any camera on map, and map can be configured to display high priority system alerts and associated video in window beside displayed map.
---
Original Press Release:

Add Expanded Interactivity & Integration with CardAccess 3000's New Dynamic Map Functions



Continental Access, a division of Napco Security Group and a leader in access control has recently released its new version of CardAccess® 3000 software which provides the integration necessary to bring all of your security subsystems together into one easy to use graphical interface. New features and innovations coming to CardAccess 3000 in 2008 include our new user-friendly dynamic maps. Our dynamic map capabilities have been expanded for additional interactivity and integration.

Our new enhanced dynamic map adds essential interactivity and integration features to already powerful CardAccess 3000. New to our dynamic maps are the choices we provide you when viewing your CA3000 system. View your system from Events Grids or from our map view. From the map view, you can see high priority alerts as text and acknowledge those alerts as you would from the CA3000 grid controls. Devices in the CA3000 system can be seen and checked from the dynamic map for status, such as doors status, system relays, readers and input status. Additional right-click functions are now available on all devices for operations like manual control of doors and relay devices. The new Dynamic Maps are also integrated with all CA3000 supported DVRs. You can view live video from any camera on the map or replay recorded video. If you so choose, the map can be configured to automatically display high priority system alerts and the associated video in a window beside the displayed map. With a click of the mouse, CA 3000's built-in dynamic map editing functions can modify the placement of devices within the map graphics.

To learn more about CardAccess 3000's dynamic map functions, please visit www.cicaccess.com. Here you will also find the most up-to-date news, events, directory of sales representatives in your area and downloadable product spec sheets for added convenience. For full product offerings, details, pricing and availability, please ask your local rep, distributor or call 631-842-9400.

About Continental Access

Since 1961, Continental Access has been used from large government facilities, to small private businesses. We offer a comprehensive range of innovative CardAccess® software and access control hardware and readers. Our systems support all reader technologies from Prox to Biometrics. Continental Access offers a comprehensive range of innovative CardAccess software and access control readers, controllers, badging and hardware - creating modular systems from 1 to over 16,000 doors. Continental Access is a Microsoft Certified Partner. We provide full factory-certified training and 24-hour technical service, attesting to our continuing commitment to quality service. Continental Access is a Napco Security Group Company publicly traded on NASDAQ: NSSC. If you have any questions, please contact one of our sales representatives at 631-842-9400 or e-mail us at salesinfo@cicaccess.com.

Contact: David Saltzman
Continental Access
355 Bayview Avenue
Amityville, NY 11701
631-842-9400 ext 169
dsaltzman@napcosecurity.com

More from Electrical Equipment & Systems