Accelerometers measure small electronic components.
Press Release Summary: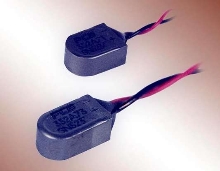 Miniature, Single-Axis, Ceramic Shear ICP® Accelerometers include Model 352A71 with sensitivity of 10 mV/g and measurement range of ±500 g peak, and Model 352A73 with 5 mV/g sensitivity and measurement range of ±1,000 g peak. Sensors are hermetically sealed in titanium housings and adhesive-mounted. They feature integral light-gauge and twisted pair cable extending 1 ft, allowing sensor to be mounted in tight areas. Operating temperature is -65 to +250°F.
---
Original Press Release:
Miniature, Light Weight, Single Axis ICP® Accelerometers

May 10, 2005, Depew, NY -The Vibration Division of PCB Piezotronics, Inc., introduces two new miniature, light weight, Single Axis, Ceramic Shear ICP® accelerometers. PCB Model 352A71, has a sensitivity of 10 mV/g and a measurement range of ±500 g peak, while Model 352A73, has a sensitivity of 5 mV/g and corresponding measurement range of ±1,000 g peak. These sensors are hermetically sealed in titanium housings and are adhesive mounted. They feature an integral light gauge, twisted pair cable extending 1 ft. from the sensor that allows the sensor to be mounted in tight areas and maintain maximum flexibility. The twisted pair is spliced into a slightly heavier gauge coaxial cable, for a full running length of 10 ft.

They are ideally suited for measurements of small electronic components, circuit boards, brackets, mini structures, and general vibration work. Their small size, light weight and unique cable arrangement make these sensors ideal for use anywhere mass loading must be minimized. These sensors feature built-in microelectronic signal conditioning circuitry that offers a low-noise, low impedance output signal while permitting long distance signal transmission and simplicity of operation. These durable designs operate in -65 to +250 °F temperatures, and survive accidental shock inputs to ±10,000 g.

For additional information, contact the Vibration Division of PCB Piezotronics, Inc. toll-free at 888-684-0013 (in the U.S. and Canada); E-mail: vibration@pcb.com; or fax at 716-685-3886. For other PCB products, contact PCB directly at 716-684-0001, or visit our web site at www.pcb.com.

PCB and ICP are registered trademarks of PCB Group Inc.

CONTACTS:

General / Sales Leads:

Andrea Mohn

Marketing Coordinator

PCB Piezotronics, Inc.

3425 Walden Avenue

Depew, NY 14043-2495

(800) 828-8840 ext. 2216

Fax: (716) 684-0987

E-Mail: mktg@pcb.com

Technical:

Mark Amatuzzo

Product Manager

Vibration Division

3425 Walden Avenue

Depew, NY 14043-2495

(888) 684-0013 ext. 2706

Fax: (716) 685-3886

E-Mail: mamatuzzo@pcb.com
More from Controls & Controllers