Accelerometer Magnet Bases offer high pull strength.
Press Release Summary: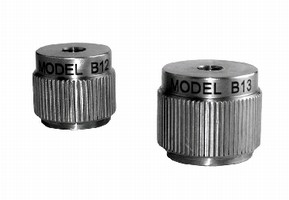 Featuring 7/8 in. diameter, 2-pole Model B12 provides 20 lb of force, while 2-pole Model B13, measuring 1 in. in diameter, delivers 35 lb of force. Units are suited for walk-around data collection since attaching base allows vibration sensor to be moved from point to point. Bases have ¼-28 tapped hole that can accommodate variety of threaded stud adapter sizes such as M6, M8, 3/8, and 10-32 for compatibility with most industrial accelerometers.
---
Original Press Release:

Wilcoxon Introduces New Accelerometer Magnet Bases



New Wilcoxon Research magnet bases for accelerometers offer high pull strength in a small package

Germantown, MD - Wilcoxon Research, a leading supplier of quality vibration sensors and sensor networks, has released two new magnet bases for accelerometers, models B12 and B13. The new magnet bases have a narrow diameter for easy handling in the field and high pull strength for reliable vibration data measurements.

Model B12 is a two-pole magnet base with a 7/8 inch (22mm) diameter and 20 pounds of force, suitable for accelerometers such as Wilcoxon models 786A and 780A. Model B13 is a two-pole magnet base with a 1 inch (25mm) diameter and 35 pounds of force, suitable for accelerometers such as Wilcoxon models 793 and 787A.

The use of magnet bases is convenient and quick for walk-around data collection because attaching a magnetic base allows the vibration sensor to be easily moved from point to point. When using piezoelectric sensors to measure vibration, the sensor must directly contact the machine surface. Wilcoxon maximized the pull strength of these magnet bases to provide the most reliable measurements.

Both bases were designed with portable vibration monitoring in mind. The two-pole magnet can be used on both flat and curved surfaces. The bases have a narrow diameter for easy handling in the field and a knurled edge for a better grip than smooth a surface. The knurled edges are made up of straight ridges for easy cleaning. The B12 and B13 magnet bases have a 1/4-28 tapped hole that can accommodate a variety of threaded stud adapter sizes such as M6, M8, 3/8, and 10-32 for compatibility with most industrial accelerometers.

The B12 and B13 round out Wilcoxon's offering of magnet bases for accelerometers, which now includes bases suitable for most vibration monitoring applications. To learn more about the B12 and B13 magnet bases for walk around vibration data collection, visit www.wilcoxon.com/vi_index.cfm?PD_ID=57. To learn more about Wilcoxon Research, Inc. or the pledge of Total Lower Cost of Ownership, visit www.wilcoxon.com, call 800-WILCOXON, or email wilcoxon@meggitt.com.

Wilcoxon Research Inc, a Meggitt group company, is committed to providing innovative vibration instrumentation, backed by outstanding customer service and a generous warranty. Wilcoxon's Total Lower Cost (TLC) of Ownership means that you won't waste time and money replacing failed sensors or waiting for items with long lead times. www.wilcoxon.com

Meggitt PLC. Headquartered in the United Kingdom, Meggitt PLC is an international group operating in North America, Europe and Asia. Known for its specialised extreme environment engineering, Meggitt is a world leader in aerospace equipment, sensing systems, defence training and combat support products and systems. www.meggitt.com

More from Computer Hardware & Peripherals