Accelerometer features integral temperature compensation.
Press Release Summary: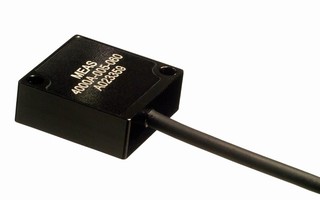 Designed for low frequency applications, Model 4000A signal conditioned accelerometer incorporates silicone MEMS sensor and is packaged in rugged aluminum housing. Operating from 8-32 Vdc power supply, unit draws minimal of 5 mA of current while operating over -20 to +85°C temperature range. Options are offered for dynamic ranges from ±2 to ±200 g. Accelerometer is suited for transportation and instrumentation testing.
---
Original Press Release:

Economical Low-g Accelerometer for Low Frequency Applications



August 27, 2008, Aliso Viejo, CA - Measurement Specialties has introduced the new Model 4000A accelerometer which is an economical signal conditioned accelerometer with integral temperature compensation. The accelerometer incorporates a 3rd generation silicone MEMS sensor providing outstanding performance. The accelerometer is packaged in a rugged aluminum housing ideal for transportation and instrumentation testing. Options are offered for dynamic ranges from ±2g to ±200g. Operating from 8 to 32 Vdc power supply, the Model 4000A draws a minimal of 5mA of current, while operating over a -20°C to +85°C temperature range.

The underlying MEMS technology and innovative design of the Model 4000A stems from Measurement Specialties, Inc. research and vibration design facilities in Fremont and Aliso Viejo, California.

About Measurement Specialties:

Measurement Specialties, Inc. designs and manufactures sensors and sensor-based systems. The Company produces a wide variety of sensors and transducers to measure precise ranges of physical characteristics including pressure, force, vibration, position, humidity, temperature and photo optics. Measurement Specialties uses multiple advanced technologies - including piezoresistive, electro-optic, electro-magnetic, capacitive, application specific integrated circuits (ASICs), micro-electromechanical systems (MEMS), piezoelectric polymers and strain gauges - to engineer sensors that operate precisely and cost effectively.

The Vibration Design Center in Aliso Viejo, CA spearheads Measurement Specialties' global initiative to expand its accelerometer and vibration sensing business with customers in the automotive, medical, military/aerospace and consumer goods industries. This center builds on the company's platform sensing technologies in silicon MEMS, piezoelectric polymer film, piezoelectric ceramic and bonded gage.

For Immediate Contact on Vibration Products:

Bjorn Ryden-Product Manager,
(949) 716-7516
or bjorn.ryden@meas-spec.com

Company Name: Measurement Specialties, Inc
Address 1: 32 Journey Address 2: Ste 150
City: Aliso Viejo
State: CA
Zip: 92656
Country: USA
Phone: 949-680-3462
URL: www.meas-spec.com

More from Construction Equipment and Supplies