Accelerometer features 1500 mV/g sensitivity.
Press Release Summary: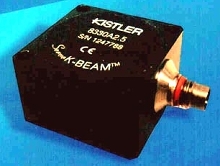 ServoK-BEAM 8330A2.5 Accelerometer is an analog force feed back sensor that utilizes silicon micro-machined variable capacitance sensing element. It features resolution of 0.8 µg @ <1 Hz, and operates from single power supply between ±6 and ± 15 Vdc with 8 mA typical current consumption. Sensing element and integrated electronics are packaged in environmentally sealed, aluminum housing. Hard anodized
coating provides ground isolation.
---
Original Press Release:

New ServoK-BEAM(TM) Accelerometer Model 8330A2.5


Kistler Instrument Corporation is pleased to announce the release of a new, high precision ServoK-BEAM Accelerometer that features a Si-Flex(TM) sensing element designed and developed
by Applied MEMS Inc. The 8330A2.5 Accelerometer is an analog force feed back sensor that utilizes a silicon micro-machined variable capacitance sensing element that provides excellent
bandwidth, wide dynamic range, stability, and robustness for steady-state and dynamic measurements. This high performance, solid state sensor features a 1500 mV/g sensitivity and a
resolution of 0.8µg @ <1 Hz. The high immunity to thermal transients and low transverse acceleration makes the 8330 ideally suited for applications requiring the measurement of low level acceleration in a steady-state or low frequency environment.

The 8330 accelerometer is a completely calibrated unit, combining sensing element and integrated electronics packaged in an environmentally sealed, aluminum housing. The hard anodized
coating applied over the housing provides ground isolation while four through holes allows the unit to be securely mounted to the test structure with screws. The accelerometer operates from a
single power supply between ± 6 and ± 15 VDC with 8 mA typical current consumption. It will operate over a temperature range of -40 to +85°C, withstand 1,500 g shock and 20 grms random vibration without degradation in performance.

The performance characteristics of the 8330A2.5 Accelerometer are at a level comparable to traditional high priced servo accelerometers and in many applications, it is an excellent replacement for the conventional force feed back servo accelerometers.

Applications include: vehicle ride analysis, stabilization control of high-speed trains; navigation systems and platform leveling, motion stability and control.

Kistler is a worldwide supplier of precision instrumentation for the measurement of, pressure, force and acceleration serving the R&D, Industrial and OEM Communities.

Kistler Instrument Corp.
75 John Glenn Drive
Amherst, NY 14228-2171
Tel 716-691-5100
Fax 716-691-5226
ISO 9001 Certified Quality System
info.us@kistler.com www.kistler.com
ronald.lochocki@kistler.com


More from Construction Equipment and Supplies