Accelerated Processing Unit operates at 3 W average power.
Press Release Summary: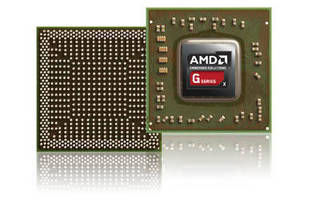 At 6 W maximum thermal design power, and approximately 3 W expected average power, GX-210JA APU enables fanless designs for variety of applications including industrial controls and automation, digital gaming, communications infrastructure, and visual embedded products such as thin clients, digital signage, and medical imaging. Dual-core X86 System-on-Chip includes discrete-class AMD Radeon™ GPU, integrated I/O controller, and enterprise-class Error Correction Code memory support.
---
Original Press Release:

AMD Extends Embedded SoC Leadership by Lowering G-Series Energy Consumption



Dual-core x86 System-on-Chip APU offers high performance at approximately 3-watt average power for exceptional visual and fanless designs to further Surround Computing



SUNNYVALE, Calif.  —AMD (NYSE: AMD) today announced a new low-power Accelerated Processing Unit (APU) in the award-winning AMD G-Series SOC family with the GX-210JA, further reducing x86 power requirements for embedded designs. The new GX-210JA APU, a full System-on-Chip (SoC) design, uses one-third less energy than the previous low-power Embedded G-Series SOC product while providing industry-leading graphics capabilities. At only 6 watts maximum thermal design power (TDP), and approximately 3 watts expected average power1, this new member of the G-Series SOC family will enable additional fanless designs for a variety of applications ranging from industrial controls and automation, digital gaming, communications infrastructure and visual embedded products including thin client, digital signage and medical imaging.



"The advance of APU processor design, the Surround Computing era, and The Internet of Things has created the demand for embedded devices that are low power but also offer excellent compute and graphics performance," said Arun Iyengar, vice president and general manager, AMD Embedded Systems. "AMD Embedded G-Series SOC products offer unparalleled compute, graphics and I/O integration, resulting in fewer board components, low-power use, and reduced complexity and overhead cost. The new GX-210JA operates at an average of approximately 3 watts, enabling a new generation of fanless designs for content-rich, multimedia and traditional workload processing."



With ever faster product design cycle times, engineers are under pressure to quickly deliver compelling solutions to meet fast-paced market dynamics. Engineers need scalable, energy-efficient embedded processing solutions with robust I/O from a proven vendor that combine cutting-edge technology and easy integration with peripheral components to create purpose-built solutions. According to Colin Barnden, principal analyst at Semicast Research: "At only 6W TDP, the GX-210JA adds to the scalable offering of the AMD Embedded G-Series family, and provides engineers with greater design choice and flexibility while keeping software overhead costs at a minimum by leveraging the same architecture across the product family."



The GX-210JA is part of the AMD Embedded G-Series SOC processor family that offers superior performance per watt in the low-power x86-compatible product category with 6W - 25W TDP options2. The family includes:

• Enterprise-class Error-Correction Code (ECC) memory support;

• Industrial temperature range of -40°C to +85°C and available with dual- or quad-core CPUs;

• Discrete-class AMD Radeon™ GPU;

• Integrated I/O controller.



The AMD Embedded G-Series SOC platform, including the GX-210JA, is currently shipping. AMD supports a comprehensive ecosystem of industry-leading embedded solution providers supporting and/or announcing market-ready products powered by the AMD Embedded G-Series SOC.



"AMD multi-core APUs have played a key role in powering our latest cloud client platforms with excellent performance in an extremely compact and efficient form factor," said Kiran Rao, director of Hardware Platforms, Dell Wyse.  "As the newest dual-core member of the AMD Embedded G-Series SOC family, the AMD GX-210JA offers the right level of performance, low-energy use, I/O integration and operating system support, plus a small footprint that should further simplify build requirements. It's designed to extend the AMD embedded processor legacy to the next level of performance and efficiency which we find especially exciting."



Current AMD Embedded G-Series SOC models

• GX-420CA SOC with AMD Radeon™ HD 8400E Graphics

- Quad-core, 25W TDP, CPU freq. 2.0GHz, GPU freq. 600MHz

• GX-415GA SOC with AMD Radeon™ HD 8330E Graphics

- Quad-core, 15W TDP, CPU freq. 1.50GHz, GPU freq. 500MHz

• GX-217GA SOC with AMD Radeon™ HD 8280E Graphics

- Dual-core, 15W TDP, CPU freq. 1.65GHz, GPU freq. 450MHz

• GX-210HA SOC with AMD Radeon™ HD 8210E Graphics

- Dual-core, 9W TDP, CPU freq. 1.0GHz, GPU freq. 300MHz

• GX-416RA SOC

- Quad-Core, 15W, CPU Freq. 1.6GHz, No GPU

• GX-210JA SOC with AMD Radeon™ HD 8180 Graphics

- Dual-core, 6W TDP, CPU freq. 1.0GHZ, GPU freq. 225MHZ



Supporting Resources

• Visit the AMD Embedded G-Series SOC platform site

• Visit the AMD Embedded Solutions blog

• Watch a summary video about the AMD Embedded G-Series SOC

• Get technical support at the AMD Embedded Developer Support site

• For more AMD Embedded products, visit the AMD-Based Embedded Product Catalog



About AMD

AMD (NYSE: AMD) is a semiconductor design innovator leading the next era of vivid digital experiences with its ground-breaking AMD Accelerated Processing Units (APUs) that power a wide range of computing devices. AMD's server computing products are focused on driving industry-leading cloud computing and virtualization environments. AMD's superior graphics technologies are found in a variety of solutions ranging from game consoles, PCs to supercomputers. For more information, visit http://www.amd.com.



AMD, Radeon, the AMD Arrow logo and combinations thereof are trademarks of Advanced Micro Devices, Inc. Other names are for informational purposes only and may be trademarks of their respective owners.



1. The average power for the AMD GX-210JA SOC is approximately 3 watts, determined by extrapolating the average of the results of the measured average power of the GX-210HA 9W SOC running the following benchmarks: 3DMark® 11, AMD Sys Stress Test CPU, AMD Sys Stress Test CPU & GPU, AMD Sys Stress Test GPU, Winbench® 99, CoreMark, Game: Meat Boy, PCMark® 7, POV-Ray, Sandra 2011, Game: Street Fighter. Testing was performed on an AMD E1-2100 (Rev A1) that is equivalent to the AMD GX-210HA SOC. System configuration: AMD E1-2100 @ 70°C, "Larne" development platform, 4GB RAM, Windows® 7 Ultimate. Please see AMD Publication ID 53395A for more information. EMB-48



2. The low-power x86 microprocessor class includes: GX-420CA @ 25W TDP ; GX415GA @ 15W , GX217GA @ 15W , GX210HA @ 9W , G-T56N @ 18W , G-T52R @ 18W , G-T40N @9W , G-T16R @ 4.5W , Intel Atom N270 @ 2.5W , Intel Atom D525 @ 13W , Intel Atom D2700 @ 10W  & Intel Celeron G440 @ 35W .  Performance score based on an average of scores from the following benchmarks:   Sandra Engineering 2011 Dhrystone ALU, Sandra Engineering 2011 Whetstone iSSE3, 3DMark® 06 (1280 x 1024), PassMark Performance Test 7.0 2D Graphics Mark, and EEMBC CoreMark Multi-thread.  All systems running Windows® 7 Ultimate for Sandra Engineering, 3DMark® 06 and Passmark.  All systems running Ubuntu version 11.10 for EEMBC CoreMark.  All configurations used DirectX 11.0.   AMD G-Series APU system configurations used iBase MI958 motherboards with 4GB DDR3 and integrated graphics.  All AMD G-Series SOC systems used AMD "Larne" Reference Design Board with 4GB DDR3 and integrated graphics.  Intel Atom D2700 was tested with Jetway NC9KDL-2700 motherboard, 4GB DDR3 and integrated graphics.  Intel Celeron system configuration used MSI H61M-P23 motherboard with 4GB DDR3 and integrated graphics.  Intel Atom N270 system configuration used MSI MS-9830 motherboard with maximum supported configuration of 1GB DDR2 (per download.intel.com/design/intarch/manuals/320436.pdf) and Intel GM945 Intel Atom D525 using MSI MS-A923 motherboard with platform integrated 1GB DDR3 and integrated graphics. EMB-36



Contact:

Travis Williams

AMD Public Relations

(512) 602-4863

Travis.Williams@amd.com

More from Packaging Products & Equipment