AC Servo Systems provide 0.08-26.4 lb-ft of peak torque.
Press Release Summary: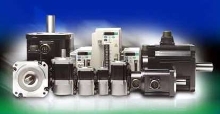 SureServo(TM) digital brushless servo systems include 8 servo motors, in brake and non-brake models, that can be operated with 1 of 3 servo drives. Systems range from 100 W to 3 kW continuous power, and can be controlled in position, velocity, or torque mode. Utilizing 8 programmable inputs and 5 programmable outputs, real-time connectivity with any control system is assured. Configuration and diagnostics is accomplished using keypad/display or SureServo Pro(TM) PC-based software.
---
Original Press Release:

SureServo(TM) New from AutomationDirect


Cumming, GA --- July 20, 2005 --- AutomationDirect is pleased to launch the SureServo family of fully digital AC brushless servo systems that offers a rich set of features for a wide range of applications. The line includes eight standard servo motors, in both brake and non-brake models, that can be operated in combination with one of three standard servo drives.

The SureServo AC systems range in size from 100W to 3kW continuous power, provide from 0.08 to 26.4 ft-lb of peak torque, and can be controlled in position, velocity or torque mode. Configuration and diagnostics of the servo drives is easily accomplished using either the built-in keypad/display or the user-friendly PC-based software called SureServo Pro(TM).

Notable among key features of the SureServo product are the ease-of-use and precise positioning it affords. These systems are easily controlled from any type of motion controller or PLC via step-and- direction, step-up/step-down, and quadrature commands, or by using the on-board indexer; the indexer can command the system in all modes of operation. Electronic gearing can be used to scale the incoming pulse frequency, allowing its pulses to command the exact extent of movement required for a specific application. Presets are readily selectable with switch inputs, or modified via a MODBUS RS-232, 422, or 485 serial interface. The MODBUS link can also supply data about system performance and status back to the controller. In addition to a manual tuning mode, all SureServo systems offer two adaptive auto-tuning modes that continue to tune the system while it operates. The adaptive modes allow the drive to adapt to load conditions during operation with little or no initial setup required.

Utilizing eight programmable inputs and five programmable outputs, real-time connectivity with any control system is assured. Velocity and torque can be controlled with a ±10V analog input signal or with the onboard indexer, and two configurable analog outputs are available for monitoring purposes.

The SureServo brushless motors include a 2500-line incremental encoder with line drive output resulting in 10,000 pulses per revolution as the standard resolution inside the drive. Low-inertia models range incrementally from 100W to 1kW with speeds up to 5000 rpm, and medium-inertia models from 1 to 3kW with speeds up to 3000 rpm. Motors have metric square mounting flanges and keyless drive shafts which support clamp-on style coupling.

Offered at AutomationDirect's typical low prices, motors for these servo systems start at $319 and drives at $479. The required motor feedback and power cables are available in 10, 20, 30 and 60-ft lengths. Using a 400W low inertia system for a pricing example, the drive, non-brake motor and 10-ft. motor cables can be purchased for a total of $996. Accessories offered include ZIPlink® kit for drives to facilitate easy connection of external controller and I/O, regeneration resistors, and more.

AutomationDirect sells over 5500 feature-packed products through its Online Automation Superstore and 1750-page catalog. The company offers its customers high-quality automation products at prices well below the industry average, 24-hour order entry and overnight delivery on in-stock items, the best documentation in the industry, outstanding sales and technical support, and a 30-day money-back guarantee on nearly every product. For a free catalog, access their Web site at www.automationdirect.com or call 800-633-0405.

More from Controls & Controllers