AC Power Transformers range from 40-96 V.
Press Release Summary: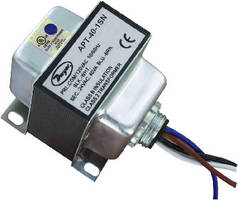 Designed to power sensors and controllers in many common circuits, Series APT steps down line voltage supplies to isolated 24 Vac output. Models can be ordered with either single or dual ½ in. NPT threaded hub mounts and also come standard with 8.5 in. 18 AWG wire leads. To meet needs of many building automation and control system applications, UL listed 40, 50, 75, and 96 VA-rated models are available.
---
Original Press Release:

NEW! Series APT AC Power Transformer



Dwyer Instruments, Inc., the preferred source for your complete range of practical and affordable instrumentation, is announcing the release of its NEW SERIES APT AC POWER TRANSFORMERS.



The Series APT AC Power Transformers are used to step-down line voltage supplies to an isolated 24 VAC output. These low-cost transformers are designed to power sensors and controllers in many common circuits.  Models can be ordered with either single or dual ½" NPT threaded hub mounts and also come standard with 8.5" 18 AWG wire leads.  UL listed 40, 50, 75, or 96 VA rated models are available to meet the needs of many building automation and control system applications.



Complete details are available on our website @ http://www.dwyer-inst.com/Product/ProcessControl/PowerSuppliesandTransformers/SeriesAPT



Dwyer Instruments, Inc.

P.O. Box 373

Michigan City, IN 46361

Phone: (800) 872-9141 or (219) 879-8000

Fax: (219) 872-9057

Internet address: http://www.dwyer-inst.com/

E-mail: lit@dwyermail.com