AC Power Source combines monitoring efficiency, protection.
Press Release Summary: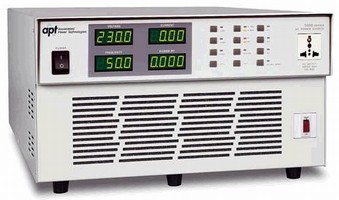 Featuring 4 LED displays for simultaneously monitoring voltage, current, frequency, and power or power factor, 5040 is 4 KVA AC power source with variable output voltage from 0-300 V and output frequencies from 40-450 Hz. Each voltage, current, and frequency parameter is programmable via dedicated function keys, and 3 programmable memories are provided for test setup recall. Other features include over-current/temperature/voltage protection, 208 V input, and 47-500 Hz input frequency.
---
Original Press Release:

New 4 KVA AC Power Source Offers Enhanced Features at a Great Value!



Diamond Bar, CA August 2008 - Announced today by Associated Power Technologies Inc. (APT) is the release of their 5040 AC power source. The 5040 is an entry level 4 KVA AC power source that offers several enhanced features and protection circuits.

The 5040 provides a variable output voltage from 0-300 V and output frequencies from 40-450 Hz. The input voltage is 208 with an input frequency from 47-500 Hz. The 5040 comes complete with 4 LED displays to easily monitor voltage, current, frequency, and power or power factor simultaneously. Each parameter of voltage, current, and frequency is programmable via dedicated function keys. The 5040 also provides 3 programmable memories for easy test setup recall. It provides several enhanced features such as over current fold back, overload current capacity, along with an inrush current rating of 4 times the maximum current. With its mix of features and functionality, the 5040 is a cost-effective solution for applications requiring AC power conversion.

Additional features of the 5040 include:

Enhanced Protection Circuits for Over Current Protection, Over Temperature Protection & Over Voltage Protection
4 LED displays to monitor voltage, amps, frequency, power and power factor
Lockout key to disable front panel operations
3 memory programs to store and quickly recall setups
Test/Reset key to activate and disable output
Programmable power on settings
Over current fold back feature
Front panel universal receptacle
Adjustable high/low limits for voltage, amps, and frequency
Switching technology & direct coupled output reduces overall size & weight

The 5040 is available for immediate delivery and is priced at only $6,995.

Associated Power Technologies offers stock delivery and guarantees that your instrument will ship in 24 hours. APT also provides an industry leading warranty program offering 1-year, 3-year and 5-year warranties. To learn more about APT's products and services you can visit them online at www.aspowertechnologies.com.

Associated Power Technologies, Inc
1142 S. Diamond Bar Blvd #106
Diamond Bar, CA 91765
Toll Free: 1-877-332-7693
Phone: 1-909-860-1646
Email: info@aspowertechnologies.com
Web: www.aspowertechnologies.com

More from Agricultural & Farming Products