AC Motor Controllers and Drives
AC Micro Drives suit constant torque conveyor/mixing applications.
Press Release Summary: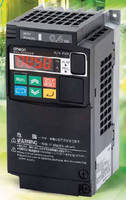 Available in 230 and 460 V versions with power ranges from fractional to 20 hp, 3G3MX2 series offers sensor-less vector control functionality and built-in safety inputs. Range of industrial communication options are supported, and functionality covers machine control operations such as positioning, speed synchronization, and logic programming. As drive and controller, products deliver 200% starting torque near stand-still (0.5 Hz) and can operate in torque control in open loop mode.
---
Original Press Release:

Omron Introduces 3G3MX2 Series Mid-Range Micro Drives with Built-in Safety Inputs and Multiple Communication Options to Simplify Network Integration



SCHAUMBURG, IL (October 1, 2009) - Omron expands its AC drives offering with the introduction of the 3G3MX2 series, powerful mid-range micro drives in 230V and 460V and power ranges from fractional horsepower to 20HP. The 3G3MX2 is compact in size and ideal for Original Equipment Manufacturers and their demanding industrial applications. With sensor-less vector control functionality and built-in safety inputs, the 3G3MX2 is ideal for constant torque conveyor and mixing applications and variable torque fans and pumps. A wide range of industrial communication options are supported, enabling 3G3MX2 to seamlessly exchange data via Modbus, DeviceNet, Profibus, EtherCAT, Mechatrolink-II and many others.

With advanced design and algorithms the 3G3MX2 provides smooth control down to zero speed, plus precise operation for fast cyclic operations and torque control capability in open loop. The 3G3MX2 also delivers comprehensive functionality for machine control such as positioning, speed synchronization and logic programming. The auto-tuning capability sets the AC drive for smooth and safe operations just by entering the power rating of the motor, making commissioning trouble-free. The 3G3MX2 delivers 200% starting torque near stand-still (0.5 Hz) and can operate in torque control in open loop mode, providing a cost effective alternative to closed loop AC vector drives.

The 3G3MX2 drives easily integrates into new and existing safety systems. Safety circuits embedded in the drives provide "safe torque off" operator protection conforming to ISO 13849-1, Cat 3. This removes power from the motor allowing it to coast to a stop while the drive itself is still powered up. The 3G3MX has two safety inputs and an External Device Monitoring (EDM) output. The safety inputs can be linked from one inverter to another without additional safety relays and no external contactors are required on the motor side allowing simpler wiring for the user. The External Device Monitoring (EDM) output confirms the safety status of the AC driver.

The 3G3MX2 is a drive and position controller in one, making it ideal for modular machines where moderate positional accuracy is required. Simple positioning tasks are solved without the need for an external controller. Up to 8 positions, plus home, can be selected by the user, and the AC drive can be switched between speed and position mode. Speed synchronization is established using standard parameter settings and no additional programming. The drive will act as a speed follower to an external pulse generator/encoder signal up to 32 kHz. The 3G3MX empowers creation of smart solutions using built-in PLC functionality. Via an intuitive flow chart programming tool, it is possible to create programs with up to 1000 lines of code and with 5 tasks running in parallel.

CX-Drive application tool in CX-One software suite or the front-mounted keypad may be used to configure the 3G3MX2 drive. CX-One provides a uniform environment to program PLCs, develop HMI graphics, configure networks, and setup motion and process controllers from a single software package. It incorporates powerful simulation tools for testing PLC and HMI operation at one time without switching applications. CX-One provides a single point of access for monitoring, operating and troubleshooting Omron drives and other controls across several networks.

For further information, contact: Omron Electronics LLC, 1 Commerce Drive, Schaumburg, IL 60173. Tel.: 866-88-OMRON. Fax: 847-843-8081. Internet: www.omron247.com

Omron Electronics LLC provides scalable machine automation solutions and offers a wide range of industrial control components to support customers throughout the Americas. Designed for complete automation connectivity, Omron delivers solutions that integrate programmable controllers, motion control, operator interfaces, machine vision and RFID systems using a single software package. Omron is a global leading manufacturer of industrial sensors, temperature controllers, power supplies, relays, switches and metering devices that support a complete automation solution. Omron Electronics LLC is the Americas subsidiary of Omron Corporation, a $6.3 billion diversified company with business units producing industrial automation, electronic components, healthcare equipment and ticketing systems.

Mark Traxler
Sr. Marcom Specialist--IAB
One Commerce Drive
Schaumburg, IL 60173
Phone: 847-285-7176
Fax: 847-285-8176
E-mail: mark.traxler@omron.com
www.omron247.com

More from Laboratory and Research Supplies and Equipment