AC Induction and Reversible Gearmotors suit varied OEM uses.
Press Release Summary: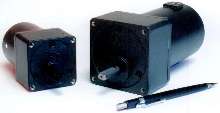 Suited for applications from 0.67-390 in.-lb, AC induction gearmotors are bidirectional after stopping, while reversible induction motors can change direction on-the-fly. Standard gearmotors include 44 models of 4, 6, 10, 15, 25, 40, 60, 90, 120, and 140 W motors integrated with gearheads with 22 different ratios from 3:1 through 180:1. CE and UL certified products are also available with custom windings and shaft, as well as various other options.
---
Original Press Release:

AC Induction and AC Reversible Gearmotors for OEMs!


Santa Clara, CA - It has been widely reported that, "The AC induction motor is the dominant motor technology in use today, representing more than 90 percent of installed motor capacity." As many of these are gearmotors and the requirements for high quality, high performance AC induction gearmotors in OEM quantities continues to rise, Source Engineering (SEI) is introducing its expanded line of AC induction gearmotors and AC reversible gearmotors. These gearmotors are ideal for: Medical, aerospace, automotive, industrial, and consumer applications.

The SEI line of standard AC induction gearmotors and reversible gearmotors includes 4, 6, 10, 15, 25, 40, 60, 90, 120, and 140 Watt motors (44 models) integrated with 3:1 through 180:1 ratio gearheads (22 different ratios). This means there is a gearmotor for almost any application from less than 0.67 in-lb (0.78 kg-cm) up to 390 in-lb (450 kg-cm).

The AC induction gearmotors are bidirectional (after coming to a stop), whereas the reversible induction motors can change direction on-the-fly. These reliable, low cost, CE and UL certified, gearmotors are available with options most often required by OEMs including: Custom windings, special bearings, custom shafts (keyways, length, flats, and pinions), lead wires, (wire type, length, and insulation), connectors, electronic brake, electromagnetic brake, and mechanical damper. The gearheads are also available without a motor.

Source Engineering, Inc. located in Santa Clara, CA is a also supplier of brushless and brush-type motors, stepper motors, induction motors, optical encoders, gear boxes, gearmotors, amplifiers, universal power supplies, optical lenses, cable harnesses, and molded cables, and reflectors to OEM's. Other products and services include: Machined parts, injection moldings, die cast and aluminum extrusions, precision machining and turnkey manufacturing solutions.

For more information, call or fax Mr. Robert Thompson, Application Engineer, at Source Engineering, Inc., 3283-H De La Cruz Blvd., Santa Clara, CA, 95054, Tel: 408-980-9822, Fax: 408/980-1860 or visit our Web site at www.sei-automation.com

More from Software