AC Motor Controllers and Drives
AC Drives suit single-axis applications.
Press Release Summary: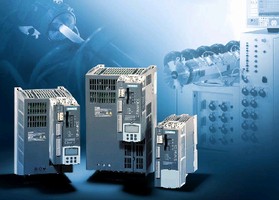 Featuring modular concept that separates power and intelligence, Sinamics S120 Drives include Easy Positioning functionality, allowing them to handle positioning tasks found in automatic assembly machines and material handling systems. Units come in single-phase/230 V from 0.25-1 hp and 3-phase/460 V from 0.5-400 hp. Safe Off and Safe Brake protect operators and machinery from injury or damage, while PROFIBUS and PROFINET interfaces allow remote access and high-speed communication.
---
Original Press Release:

New Single-Axis Sinamics S120 AC Drive



CHICAGO, Oct. 30, 2006 -- The new Sinamics S120 AC Drive for high-performance single-axis applications from Siemens Energy & Automation, Inc. will be introduced at the 2006 PACK EXPO in Chicago. The new drive expands the Sinamics S120 system into the industry's first integrated modular drives system for both single-axis and multi-axis applications with the capability of running high performance servo and vector modes.

The new Sinamics S120 AC drive features an innovative modular concept that separates power and intelligence. Freely selectable combinations of power sections and controllers increase flexibility and scalability of the drive system. Multiple choices allow users to select the right controller for their current needs but protect their drive investments if the application ever changes. Furthermore, this flexibility opens up new possibilities for innovative modular machine designs.

With its built-in Easy Positioning functionality, the Sinamics S120 AC Drive is designed to handle positioning tasks such as those found in automatic assembly machines and material handling systems. The Sinamics S120 drives can be used in applications such as packaging, printing, plastics, textiles, converting and hoisting.

The new Sinamics S120 AC Drives are available in single phase 230 V in the power range 0.25 to1 HP, and three phase 460 V in the power range 0.5 to 400 HP. The power modules are available in compact block construction (0.25 to 125 HP) or as chassis units (150 to 400 HP).

"The single-axis AC drive complements the existing SINAMICS S120 multi-axis drives. Now one integrated drive family can be used for all applied drive applications utilizing induction, servo, linear, or torque motors," Craig Nelson, product manager, Siemens Energy & Automation, Inc.

On board Safety Integrated technology including "Safe off" and "Safe brake" protects operators as well as machinery from injury or damage. Communication interfaces including PROFIBUS and PROFINET (Industrial Ethernet) allows for remote access, high-speed communications, and integration into existing networks and automation systems.

All Sinamics drives are based on a single platform concept with joint hardware and software components, as well as standardized tools from Siemens including; SIZER for design and STARTER for diagnostic and commissioning tasks. This commonality ensures high-level integration across the entire Sinamics drives family.

Sinamics is part of the Siemens "Totally Integrated Automation (TIA)" concept. TIA ensures seamless integration of all Siemens automation products; as well as savings in engineering, start-up time, and operating expenses.

For more information logon to www.sinamics.com

A photo accompanies this press release. This photo is available on the Internet at: www.siemens.com/ad-picture/1115

About Siemens
Siemens Energy & Automation, Inc. is one of Siemens' operating companies in the U.S. Headquartered in the Atlanta suburb of Alpharetta, Ga., Siemens Energy & Automation manufactures and markets one of the world's broadest ranges of electrical and electronic products, systems and services to industrial and construction market customers. Its technologies range from circuit protection and energy management systems to process control, industrial software and totally integrated automation solutions. The company also has expertise in systems integration, technical services and turnkey industrial systems. For more information: www.sea.siemens.com.

Siemens AG (NYSE:SI) is one of the largest global electronics and engineering companies with reported worldwide sales of $96 billion in fiscal 2005. Founded nearly 160 years ago, the company is a leader in the areas of Medical, Power, Automation and Control, Transportation, Information and Communications, Lighting, Building Technologies, Water Technologies and Services and Home Appliances. With its U.S. corporate headquarters in New York City, Siemens in the USA has sales of $18.8 billion and employs 70,000 people throughout all 50 states and Puerto Rico. Eleven of Siemens' worldwide businesses are based in the United States. With its global headquarters in Munich, Siemens AG and its subsidiaries employ 460,000 people in 190 countries. For more information on Siemens in the United States: www.usa.siemens.com.

CONTACT: Michael Krampe
(770) 751-2211
michael.krampe@siemens.com

More from Material Handling & Storage