AC Motor Controllers and Drives
AC Drives provide multiple modes of motor control.
Press Release Summary: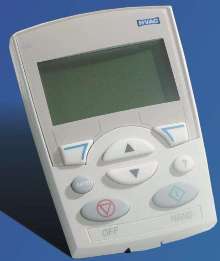 ACH550 series 1-500 hp AC drives feature 2 soft keys whose functions change according to operating state of panel. HELP button and real-time clock assist in drive set-up and fault diagnostics, while Start-Up Assistant software provides guided set-up. Drives have swinging choke design, parameter copy feature, and EMI/RFI filter. Programming can be carried out using control panel's plain-text, full-graphic display.
---
Original Press Release:

All-New ACH550 AC Drive Line from ABB Provides Customers a Quantum Leap in Easy Installation, Start-Up and Use


(With a control panel modeled after a cell-phone design, the 1-500 Hp AC drives are extremely intuitive and simple to set up; and packed inside -- a full complement of features that make precise motor control across all commercial/HVAC applications easier than ever before)

NEW BERLIN, Wis., November, 2003 . . . "We pooled our worldwide expertise, resources and technology to make drives simple!," said Joe Maloni, vice president, sales and marketing, ABB Inc., Drives, in describing the company's introduction of the all-new ACH550 DriveIT Low Voltage AC Drive family. For drives users, he noted, "it is sophisticated technology made simple."

What Drives You, Drives Us --

The new drives were created from scratch, based on "listening very closely to the needs of our customers - and they are the easiest motor drives to install, start and use, bar none," Maloni said.

The ACH550 is the first ABB drive developed jointly between the U.S. and Finland. It was built utilizing three-dimensional design tools, with R&D and manufacturing engineers from ABB's facilities sharing resources in a design effort "that combines simplicity, convenience, fieldbus connectivity, harmonic mitigation and programmability to a degree we've not seen in drives before," said Maloni. The drives' 1 to 500 horsepower range and multiple modes of motor control provides users wide flexibility across the full range of HVAC applications, he noted.

Simple Controls/Set-up --

The all-new control panel is similar in look, feel and functionality to a mobile phone and features two soft keys, the functions of which change according to the operating state of the panel. A built-in HELP button and a real-time clock assist in drive set-up and fault diagnostics. This enables fast set-up, simple configuration and rapid fault diagnosis.

Start-up Assistant software built in as a standard tool "means, literally, that the start up and tuning of these drives can be accomplished faster than ever before," according to Jeff Miller, HVAC sales manager for ABB Inc., Automation Technologies, Drives and Motors.

Start-up Assistant provides guided start up, step by step; no need to worry about which parameters to set, and no need to access complex parameter lists.

Convenient Operator Interface --

Available for use in up to 16 languages (all resident in the control), the Assistant, via the control panel, asks users for motor nominal values, the I/O configuration and application-specific parameters (acceleration and deceleration). An on-line information system offers additional help at every step. Following this interaction, drives are ready for controlling the specified motor and process. Changed parameters are logged and available, too.

A built-in real-time clock also logs actual date and time of faults (and all important operating data), easing diagnostics of drive performance.

If a fault occurs, use of the Diagnostic Assistant will suggest ways to fix the fault.

The drive also monitors energy consumption, running hours or motor revolutions. Users can set their own limits for one of these items, so that the drive gives an alarm whenever these limits are reached. The keypad will then indicate when the drive, motor, or driven equipment should receive preventive maintenance.

Additional intuitive drive features available via the operator interface include audible noise optimization, and programming assistants such as a PID assistant. A controlled cooling fan operates only when necessary, further reducing audible drive noise, improving energy efficiency and extending fan life.

Fieldbus Control -- Access To Automation Systems; BACnet -- Both a digital interface card (115/230V) and/or field bus adapters are available as options and mount quickly into an option slot inside the ACH550 drives -- providing connectivity to a wide variety of major automation systems. Modbus, Johnson Controls' Metasys®, and Siemens' FLN serial communication are built in, with BACnet as a loadable option.

"Because drive users have a wide array of protocols to choose from, they can interface all of these built-in device benefits with virtually any automation system they have," according to Miller. "These drives accommodate users where they are, and do not dictate the automation system that must be used or installed."

Copy/Download Parameters --

All programming of ABB's ACH550 drives can be carried out using the standard control panel; no special hardware or software programming tools are needed. "Programming should take only minutes, max," according to Miller, "and can be carried out on-site during start-up." The panel's multi-lingual plain-text, full-graphic display is easy to use with Start-up Assistant -- as well as for drive monitoring and normal parameter setting.

A parameter copy feature also allows all drive features to be copied from one motor controller to another, to simplify start up. The copy feature is used regularly as a back up, in case of a drive failure, allowing the existing application -- including all the motor data attained during start-up -- to be downloaded to the replacement drive.

This saves the need of a new start-up, and time spent repeating parameter settings.

EMI/RFI And Harmonic Filters --

Through ABB's patent-pending "swinging choke" design, the ACH550 drive dramatically reduces harmonics and gives the new ACH550 drives the industry's lowest input current THD (Total Harmonic Distortion) for six-pulse VFDs. The drive reduces harmonics at full and partial loads by up to 30%, when compared to conventional choke designs. The built-in choke, equivalent to a 5 percent line reactor, reduces harmonics at both full and partial loads, and satisfies virtually all harmonic mitigation requirements for commercial applications, according to the company.

Reducing harmonics enables commercial users to avoid both potential harm to their own equipment and the penalties set by power companies for introducing harmonics into the supply grid. "Power cabling to the drives also do not need to be oversized (per NEC 430-2), which saves installation costs and delivers full current and horsepower to motor loads," Miller noted.

A built-in EMI/RFI filter guarantees trouble-free operation of surrounding equipment and instrumentation and meets compliance to CE's 1st Environment standards.

Programmable Software --

Application macros permit users to easily select a pre-configured set of parameter values and I/O configurations. If none of the macros are suitable, the user can tailor parameter values and I/O configurations to suit specific application needs and save their custom settings to one of two dedicated "user macros." "The capability of getting these inputs into the drive quickly and easily maximizes convenience and minimizes start-up time," notes Miller.

High Power Density --

High horsepower in an extremely compact design delivers high power density to commercial facility owners and managers, mechanical and electrical engineers, and operations managers who need a full-featured drive in a small, flexible package. Drives will be available in NEMA 1 or NEMA 12 enclosures, with supply voltages from 208V to 480V, and the ACH550 drives are distinguished visually with an unmistakable "cobra design" that communicates quick, fast, precise power and delivery, said Miller.

The high-density power-to-volume ratio in this sensor-less vector design, combined with two internal slots for options such as encoder feedback, 115/230V digital interface card, I/O expansion, or fieldbus adapters, gives the ACH550 line "a leg up on the competition, when it comes to customer ease of installation," Miller said. "Drive usage has never been so easy."

With Bypass, Too --

The drives line will be available with or without an electronic bypass, and the bypass will be available in both a vertical and a side-by-side configuration. Drive/Bypass configurations will be built in a 1 - 400 horsepower range.

Everything Inside --

Everything that is needed in an AC drive is inside the ACH550 drives -- or can be mounted there. There is no need to mount and wire auxiliary devices externally -- saving substantial time, space and money.

"We continue to work very hard to see these drives through the eyes and needs of our customers and users," said Maloni. "The goal is to make drives simple -- provide a common technology to drive motors across a wide range of applications, small to large."

ABB Inc., Automation Technologies, Drives and Motors, is the #1 drives supplier to the U.S. HVAC market, and has connected more than 60,000 drives to building automation systems. In the USA, ABB, New Berlin, Wisconsin, supplies a complete line of energy-efficient electric drives and motors to HVAC and commercial customers through an integrated channel of sales representatives and distributors. Products manufactured include AC and DC variable speed drives from fractional to 400 horsepower. HVAC single-motor drive applications include exhaust fans, fume hoods, re-circulation pumps, condenser fans; multiple-motor applications include multi-cell cooling towers, paralleled chilled water, and booster pump systems (http://www.abb-drives.com). For information on the new ACH550 drives, specifically, see www.abb-drives.com/products/ACS550/ACS550.asp.

ABB (www.abb.com) is a leader in power and automation technologies that enables utility and industry customers to improve performance while lowering environmental impact. The ABB Group of companies operates in around 100 countries and employs about 120,000 people. The company's U.S. operations employ about 9,500 in manufacturing and other facilities in 40 states.

ABB ACS550 Contact -
Jeff Miller
262-780-3865 phone
262-785-8501 fax
jeff.miller@us.abb.com

More from Sensors, Monitors & Transducers