AC Motor Controllers and Drives
AC Drives plug into neworks.
Press Release Summary: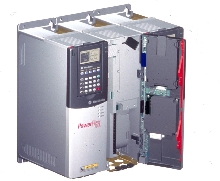 Allen-Bradley PowerFlex(TM) 700 AC drives offer adapters for NetLinx, DeviceNet, ControlNet, Universal Remote I/O, Profibus, and Interbus-S networks. Drives are available in power ratings from 0.5 to 40 hp at 400 to 480 V, and are configurable for volts-per-hertz and sensorless vector applications. They meet global power ratings, packaging requirements and industrial standards including CSA, cUL, UL, C-Tick and CE. Compact size saves panel space.
---
Original Press Release:

Space-Saving Allen-Bradley PowerFlex(TM) 700 AC Drives are Easily Configured to Meet Broad, Global Applications


MEQUON, Wis., November 8, 2001 - The new Allen-Bradley PowerFlex(TM) 700 AC drive, a flexible, high-performance addition to the Allen-Bradley PowerFlex family of drives, was launched today by complete automation leader Rockwell Automation. Offering power ratings from 0.37 to 30 kW (0.5 to 40 hp) at 400 to 480 volts, PowerFlex 700 AC drives are easily configurable for volts-per-hertz and sensorless vector application needs. The PowerFlex 700 drive line will expand in the future to cover higher power ratings and voltages from 208 to 690 volts.

Zero Stacking design saves panel space. The drive's Zero Stacking, or side-by-side design - combined with directed airflow, dual articulating cover hinges, and "book shelf" design - saves panel space. In many cases, users can mount two drives in the same "foot print" as competitive or previous-generation drives. The removable cable entry plate simplifies maintenance by allowing quick drive replacement without disconnecting conduit. The PowerFlex 700 also features an easy-to-remove cassette that houses the main control and I/O board. The cassette, which users can remove from the power structure, is the same for all drive ratings, further simplifying training and installation for the entire product line.

Global ratings for worldwide plug-and-play operation. Allen-Bradley PowerFlex 700 drives meet global power ratings, packaging requirements and industrial standards (CSA/cUL-certified, UL-listed, C-Tick, CE-marked) right out of the box. For reduced startup time and operator training, PowerFlex 700 drives use a seven-line, graphical LCD human-interface module (HIM) option. As standard, the HIM displays full multilingual text in Dutch, English, French, Italian, German, Portuguese and Spanish.

Flexible commissioning. The PowerFlex 700 features S.M.A.R.T. Start, a startup utility with a set of the most commonly programmed parameters, including start/stop, minimum and maximum speed, acceleration and deceleration time, speed reference source, and motor overload protection. For more sophisticated set-ups, complete, prompted startup routines are also available. This utility allows quick and easy set-up without in-depth knowledge of the drive's parameter structure for both simple and complex applications. In addition, the PowerFlex 700 offers a configurable autotune routine, which precisely measures motor parameters to improve torque performance in demanding applications. Used during and after set up, PC drive tools, such as Allen-Bradley DriveExplorer(TM) Software and DriveTools(TM) 2000, assist users with programming, monitoring and troubleshooting.

Advanced integrated communications. The PowerFlex 700 also offers internal communication options that allow users to integrate the drive into Rockwell Automation NetLinx open network architecture as well as other global standard communication networks. These options are mounted under the drive cover and easily plug into the drive to save additional panel space. The list of network adapters includes: DeviceNet, ControlNet, Universal Remote I/O, Profibus and Interbus-S. Integrated communication enables users to gather process information at the drive level and automatically disperse it to any part of the manufacturing or management system, integrating control and configuration with supervision and management of the production process.

Flexible Packaging Options. The PowerFlex 700 Configured Drives Program further simplifies installation and start up by allowing users to order drive packages that combine operator interface, control, communications and power options to meet their specifications. Offering a number of commonly requested options, as well as more complex custom-engineered packages, configured PowerFlex 700 drives give users application-specific solutions to meet motor control needs around the world.

The Allen-Bradley PowerFlex family - PowerFlex 4 (0.2 to 3.7 kW; 0.25 to 5 hp) PowerFlex 70 (0.37 to l5 kW; 0.5 to 20 hp), PowerFlex 700, and PowerFlex 7000 medium voltage (373 to 3,000 kW; 500 to 4,000 hp) AC drives - offer significant commonality across multiple plafforms including networks, operator interface, programming and hardware. This commonality allows the user to feel comfortable with programming and start up of any PowerFlex AC Drive. Rockwell Automation ensures worldwide performance reliability through an extensive testing program and local support services.

More from Controls & Controllers