AC Motor Controllers and Drives
AC Drives include intelligent start-up assistant.
Press Release Summary: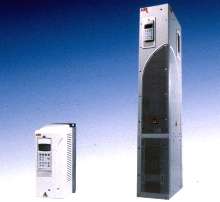 ACS 800 Drive
IT
Low Voltage AC Drives are offered in NEMA 1 or NEMA 12 enclosures. All are designed in bookshelf style, and units range from 6.5 in. wide, low hp designs up to freestanding, 600 hp units that measure 13.78 in. wide. Drives include integral EMC filters and chokes, and are rated at supply voltages of 230 to 690 V. Start-up Assistant automatically detects when drive is turned on for first time and provides guided commissioning.
---
Original Press Release:

ABB Introduces Narrowest Drives in Industry; Flagship AC Drive Familly Sets Standard for Performance, Flexibility, and Adaptability


Including A 600 Hp Design At Less than 14 Inches Wide, The New Bookshelf-style Low-Voltage Drive Series Features An Intelligent Start-up Assistant and PLC-like Functions Built-in.

NEW BERLIN, Wis., September, 2002... ABB's new ACS 800 DriveIT Low Voltage AC Drive family combines greater performance, programming power and flexibility in a new enclosure design that makes it easy to use the drive across the full range of industrial applications and markets.

Fit Anywhere
Extremely compact, 50 percent smaller than equivalent predecessors - and narrowest in the industry-- the new ACS 800 drives are available in NEMA 1 or NEMA 12 enclosures (without de-rating). All units are designed in a bookshelf style, and units range from 6.5-inch-wide low-Hp designs up to freestanding 600-Hp units that measure only 13.78 inches wide! The freestanding enclosures of the drives in the range from 150 - 600 Hp turn easily to fit into deep, narrow spaces, or wide, shallow spaces. Designed with integral EMC filters and chokes and rated at supply voltages of 230V to 690V, the ACS 800 is backward compatible with ABB's previous ACS 600 family-- parameters have the same name and scaling.

"This is a user-focused, high-performance drive packed into an extremely small, complete, and flexible package," notes Mark Kenyon, product manager for the ACS 800 family, now reaching the marketplace via ABB's local customer facilities around the globe. "Features like the interactive Intelligent Start-up Assistant and Adaptive Programming software built in as standard tools means, literally, that the commissioning and tuning of a high-performance drive can be accomplished faster than ever before."

Direct Torque Control For Trip-less Operation
The new drives include ABB's proprietary open-loop Direct Torque Control technology, which eliminates the need for installing encoders and enables the drives to calculate the state (torque and flux) of the motor 40,000 times per second, making the motor
controllers trip-less. ABB's IndustrialIT designation for the farmily ensures that, at a product level, the new drives inter-operate with all ABB products; and, through versatile connectivity, the controllers can also be integrated easily with different process automation systems.

Commission In Record Time With Intelligent Start-up Assistant
This standard interactive commissioning tool makes ABB's ACS 800 drive family "the quickest and easiest on the market to commission, bar none," according to Kenyon. "It saves time and eliminates fear and frustration."

Start-up Assistant automatically detects when the drive is turned on for the first time and then provides guided commissioning, step by step; no need to worry about which parameters to set.

Available for use in one of 12 languages, the Assistant asks users for motor nominal values, the I/O configuration and application-specific parameters (acceleration and deceleration). If option modules, like I/O extensions or fieldbus modules, are installed, the Start-up Assistant detects and offers guided commissioning for that module. An on-line information system offers additional help at every step. Following this interaction, drives are ready for controlling the specified motor and process.

Built-in Adaptive Programming Takes Minutes; Provides PLC Functionality
Built into the new ACS 800 and eliminating the need for any extra hardware or software, Adaptive Programming extends further the freely programmable I/O and extensive parameter selections that make the ACS 800 the most flexible drive in the marketplace.

Adaptive Programming consists of a set of 15 blocks that can be programmed to perform any operation from a predefined set of 20 functions. All common mathematical and logical functions, as well as switches, comparators, filters and timers, are available for detailed programming. "It is like having PLC functions inside your drive," said Kenyon. Using the blocks simplifies and speeds up detailed programming.

Users freely define inputs to the blocks, wiring between the blocks and connections to the drive I/O or to the drive control. Users can create new input and/or output signals and modify the drive's speed or torque control: "PLClike control" of external devices like auxiliary pumps is easy. In minutes, users can integrate specified functions into the ACS 800, which are traditionally done with additional equipment like relays and timers.

A Windows(TM)-based PC tool is also available to work in tandem with Adaptive Programming and let viewers see all 15 blocks, in addition to downloading further programs.

All From The Standard Control Panel
All programming can be carried out using the standard control panel; no special hardware or software programming tools are needed. As such, the programming takes a few minutes and can be carried out on-site during commissioning. The panel's multi-lingual plain text display is easy to use for Adaptive Programming as well as for the Start-up Assistant - and for drive monitoring and for normal parameter setting.

A parameter copy feature allows all drive features to be copied from one motor controller to another, to simplify commissioning. And one control panel can be used to control up to 31 drives.

Fieldbus Control - Gateway To Automation Systems
A snap-on module, which ABB calls a fieldbus adapter, mounts easily inside the ACS 800 drive to provide connectivity to a wide variety of major automation systems. "The wide range of adapters means that users' choice of an automation system is independent of the decision to take advantage of all the benefits built into these new drives," said Kenyon. "It's a win-win, because they can choose both."

Everything Included Inside Drive
Everything that is needed in an AC drive is, or can be, mounted inside the ACS 800 drives. That includes integrated RFI filters chokes, brake choppers, I/O extensions, fieldbuses and the pulse encoder module. This self-contained complete construction makes the ACS 800 extremely flexible, according to ABB. There is no need to reserve extra space and no extra cabling is needed, which saves substantial costs.

Inside the drive, slots for up to three plug-in option modules and other accessories are available, removing the need for external extension modules. An additional enclosure extension can be added to the drives in the 150 - 600 Hp range, to accommodate a wide variety of accessories, such as a fused disconnect, contactor with an emergency stop button or a customer terminal block

"Seen through the eyes of users, this kind of wide range of horsepower in a single drive family, provides a common technology for a host of applications - small to large," said
Kenyon. "All drives across a facility or within a process can share common features, such as interface with fieldbuses, tools for sizing, commissioning and maintenance, and common spare parts. That is the definition of efficient, smart installation and usage of electrical control and manpower."

ABB Inc., the global technology company, is the world's largest manufacturer of electric motors and drives. In the USA, an integrated channel of sales representatives, distributors, and system integrators allow ABB Inc., Drives & Power Electronics,
Automation Technology Products Division, New Berlin, Wisconsin, to supply a complete line of energy-efficient electric drives, motors and engineered drive systems to a wide range of industrial and commercial customers. Products manufactured include AC & DC variable speed drives for electric motors from 1/2 through 135,000 HP, large AC machines and drives, medium-voltage drives, power electronics and rectifier systems, AC & DC motors, and application-specific drive system solutions to meet diverse customer needs. See http://www.abb.com/motors&drives.

ABB (www.abb.com) is a global leader in power and automation technologies that enable utility and industry customers to improve performance while lowering environmental impacts. The ABB Group of companies operates in more than 100 countries and employs about 150,000 people worldwide. The company's U.S. operations employ more than 14,000 people in manufacturing and other facilities in 40 states.

For more information on ABB Drives & Power Electronics, contact:
Becky Nethery
Manager, Marketing Communications
ABB Inc.
Automation Technology Products Division
Drives & Power Electronics
16250 West Glendale Drive
New Berlin, WI 53151-2840
Tel: (262) 785-8363
Fax: (262) 780-5120
e-mail: becky.nethery@us.abb.com
www.abb.com/motors&drives

For more information on ABB's new ACS 800 Drive Series, contact:
Mark Kenyon,
Product Manager
ABB Inc.
Automation Technology Products Division
Drives & Power Electronics
16250 W. Glendale Drive
New Berlin, WI 53151-2840
Tel: (262) 780-5141
Fax: (262) 780-5120
e-mail: markkenyon@us.abb.com
www.abb.com/motors&drives

More from Test & Measurement