AC Drive targets OEM pump and fan applications.
Press Release Summary: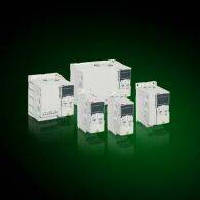 Ranging from 200-480 Vac/0.5-30 hp, Model ACS310 comes with 2 independent PID controllers for regulating pressure, flow, or other quantities on basis of need. Pump and fan control switches auxiliary pumps on and off as required by capacity changes, while auto-change function alternates between pumps to keep duty times equal. For pump protection, variable frequency drive uses Pipe Fill control method, which starts pump system and fills pipelines with water before closed-loop control is activated.
---
Original Press Release:

ABB Introduces Product Line Extension to AC Drive Tailor Made for Pump & Fan applications Served by OEMs



The ACS310 Pump & Fan AC Drive, packed with energy efficient features, now includes single-phase 200 to 240 VAC +/-10%, 0.5 to 3 HP

New Berlin, WI, - The ACS310 is designed for extremely fast installation and commissioning -- particularly for pump & fan applications. The addition to ABB's AC Drive family ranges from 200 - 480 VAC, 0.5 HP to 30 HP (0.37 kW to 22 kW). The drive is fitted with a powerful set of features that fulfill pump & fan application needs - complemented with advanced, energy efficient functionality built into every unit.

"This compact, easy-to-use drive offers the most advanced pump-and-fan features and pump-protection functions," according to Greg Semrow, a product manager for ABB LV Drives. "In combination, these features contribute to real energy efficiency and value," he noted.

Benefits of Controllers and PFC Features that Ease Drive Use - and Save Energy

The ACS310 comes standard with two powerful, independent, and built-in PID controllers for regulating pressure, flow or other quantities on the basis of the actual need. The PID control is widely used in automation and process industries. There are lots of different applications where the PID can be used to control the actual system and its performance. Such applications include: motor speed control in various conveyor applications; pressure and temperature control like that used in ventilation systems; flow control in pumping systems; and different kinds of level-control applications. The second PID controller can eliminate the need for an external PID controller, and helps to improve the quality of the process, save energy and up-front costs.

PFC and SPFC Built In

Pump and fan control (PFC) switches auxiliary pumps on and off, as required by capacity changes. Auto-change function alternates between pumps to keep the duty times of the pumps equal. With PFC feature, one drive is able to control several pumps or fans in parallel. An Auto-change function (when enabled and with the appropriate switchgear) equalizes duty time between the pump motors. Auto-change periodically increments the position of each motor in the rotation - that is, the speed-regulated motor becomes the last auxiliary motor, and the first auxiliary motor becomes the speed-regulated motor, etc. Interlocks function enables the drive to detect if any of the pumps are unavailable (ex. switched off for maintenance), in which case, the next available pump is started, instead.

Soft pump and fan control (SPFC) is used for pump and fan alternation applications where lower pressure peaks are desirable when a new auxiliary motor is connected online. SPFC is an easy way to implement soft starting of direct on line (auxiliary) motors. The main difference between traditional PFC and SPFC is the way SPFC connects auxiliary motors online -- with a flying start, while the motor is still coasting. Thus, in some cases, SPFC makes it possible to soften the start-up current while connecting auxiliary motors online. This is why lower-pressure peaks on the pipelines and pumps also may be achieved. SPFC control requires the Auto-change function (and the appropriate switchgear).

The ACS310 comes standard with advanced pump protection functions such as Pipe Fill, a pre-programmed control method to start a pump system and fill the pipelines. Pipelines are filled smoothly with water, before closed-loop control is activated. Pump Cleaning executes pre-programmed cleaning sequence for pump at drive start or when required with some other source, like digital inputs or current/torque limits. Pump Cavitation function allows supervision of pump inlet and outlet pressure through external sensors. The Pump Protection function can be used to generate an alarm on the display, provide protection during the event, or trip the drive on a fault.

Saving Energy All the While!

Variable frequency drives (VFDs) save energy, compared to other flow-control methods such as throttling. There are additional efficiencies achieved through monitoring, analyzing and optimizing VFD system operation. In combination these features contribute to real energy efficiency and value.

ABB drives have built-in energy efficiency counters that calculate the energy savings of the application in kWh and MWh -- the cost of the energy saved in a local currency; and the carbon dioxide (CO2) emissions equivalent of the energy saved. The ACS310 includes other advanced energy efficiency features, like the built-in statistical tool Load Analyzer, which saves process data, such as current and torque values that can be used to analyze energy efficiency of the pumping process. The energy optimizer optimizes the flux so that the total energy consumption and motor-noise level are reduced when the drive operates below the nominal load. The total efficiency of the drive system can be improved by up to 10%, depending on load torque and speed.

ABB, Automation Products, Low Voltage Drives, is the world's largest manufacturer of electric motors and drives. In the USA, an integrated channel of sales representatives, distributors, and system integrators allow ABB, New Berlin, Wisconsin, to supply a complete line of energy-efficient electric drives, motors and engineered drive systems to a wide range of industrial and commercial customers. Products manufactured include AC and DC variable speed drives for electric motors from 1/8th through 135,000 HP, and application-specific drive system solutions to meet diverse customer needs (http://www.abb.us/drives).

ABB (www.abb.com) is a leader in power and automation technologies that enable utility and industry customers to improve their performance while lowering environmental impact. The ABB Group of companies operates in around 100 countries and employs about 120,000 people.

More from Electrical Equipment & Systems