AC Drive offers multi-pump control solution.
Press Release Summary: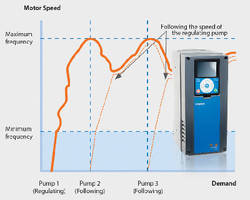 Covering power range of 0.75–250 hp and voltage range of 230–500 V, VACON® 100 FLOW AC Drive offers 3 multi-pump control solutions: single drive multi-pump, multi-drive multi-master, and multi-drive multi-follower. Unit offers control of flow and pressure for up to 8 pumps or fan without need for external controller—communication between drives is provided by integrated RS-485. Available with UL Type 1 or UL Type 12 approved enclosures, drive is equipped with built-in Ethernet as standard.
---
Original Press Release:

Multipump Control Solution



Milwaukee, WI — The VACON® 100 FLOW is an AC drive specifically designed to improve flow control for multi-pump applications in which several pumps are used in place of a single one. Multiple pump solutions are desirable to lighten the load by spreading it across several pumps, thus providing greater energy efficiency and system redundancy – if one pump fails, the others can take up the additional load. For operations in which demand fluctuates throughout the course of the day, such as a municipal water system providing peak water consumption in the morning and minimal usage at night, the VACON 100 FLOW offers unsurpassed control of flow and pressure for a maximum of eight pumps (or fans) without the need for an external controller — communication between drives is provided by integrated RS-485. The VACON 100 FLOW AC Drive is equipped with built-in Ethernet as standard, eliminating any additional options or gateways needed to communicate with process automation. This also provides access for commissioning and maintenance through "VACON Live" and makes local or remote monitoring possible.



The VACON 100 FLOW offers three multi-pump control solutions: single drive multi-pump, multi-drive multi-master and multi-drive multi-follower. For single-drive installations, one AC drive controls a lead pump. If demand exceeds the capabilities of the pump, additional fixed-speed pumps are brought online directly or with a soft starter. The VACON 100 FLOW allows the user to choose between fixed setups and solutions in order for the lead and auxiliary pumps to alternate roles to equalize wear and tear. In multi-master mode, each pump is controlled by its own AC drive. The integrated RS-485 interface allows the drives to communicate without the need for any external controller. As demand increases, the leading drive increases its speed until the capacity is exceeded, at which point the excess load is transferred to the next drive in the series. This method ensures pumps start and stop smoothly, and reduces the need for additional control wiring, motor protection relay and contactors. Multi-follower mode is similar to multi-master except that as demand increases and the lead drive's capacity is exceeded, additional drives running in parallel are brought into operation. This ensures that all pumps run at the same operating speed, reducing noise and general stress, thus improving reliability.



The VACON 100 FLOW is available in a number of frame sizes with either UL Type 1 (IP21) or UL Type 12 (IP54) approved enclosures, covering the power range of 0.75 HP (0.55 kW) to 250 HP (160 kW), and a voltage range of 230 V to 500 V.



ABOUT VACON

Vacon is driven by a passion to develop, manufacture and sell the best AC drives and inverters in the world - and provide customers with efficient product lifecycle services. Our AC drives offer optimum process control and energy efficiency for electric motors. Vacon inverters play a key role when energy is produced from renewable sources. The company has production and R&D facilities in Europe, Asia and North America, and sales offices in 27 countries. For North America, our main offices are in Milwaukee, WI and in Stoney Creek, ON Canada, both offering state-of-the-art training and demonstration facilities. Our Chambersburg, PA manufacturing facility, built in 2009, was awarded the prestigious LEED Gold Certification in 2010. Further, Vacon has sales representatives and service partners in nearly 90 countries. Shares of VACON Plc (VAC1V) are quoted on the main list of the Helsinki stock exchange (NASDAQ OMX Helsinki).



For more information, visit www.vacon.com or call 877.822.6606.

Related