AC Motor Controllers and Drives
AC Drive is made for pump and fan applications.
Press Release Summary: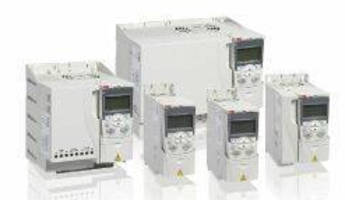 Rated from 0.5-30 hp, ACS310 incorporate PID controllers that vary drive performance in response to changes in pressure, flow, or other external data. Pump and fan control (PFC) modulates speed of main pump/fan and brings any auxiliary pumps/fans online as necessary, while soft pump and fan control (SPFC) further reduces unwanted pressure peaks in pumps and pipelines. Along with energy optimization technologies, drives come in IP20 housing and offer pre-programmed application macros.
---
Original Press Release:

ABB Introduces a New AC Drive Tailor Made for Pump & Fan Applications Served by OEMs



(New ACS310 Pump & Fan AC Drive packed with energy efficient features; 30 HP unit weighs only 9.7 lbs.)

NEW BERLIN, WI, July 9, 2009 . . . Called a model ACS310, ABB's new drive is designed for extremely fast installation and commissioning -- particularly for pump & fan applications. The addition to ABB's AC Drive family ranges from 0.5 HP to 30 HP (0.37 kW to 22 kW). The drive is fitted with a powerful set of features that fulfil pump & fan application needs - complemented with advanced, energy efficient functionality built into every unit.

"This drive series incorporates exactly how hard ABB's research and market engineers work to focus on, and hear, what the needs are of original equipment manufacturers, to whom we sell innumerable drives," said Kathleen Watson, the product manager for the ACS310 series.

Benefits of Controllers and PFC Features that Ease Drive Use - and Save Energy

Built-in PID controllers are used to vary the drive's performance, in response to changes in pressure, flow or other external data, which modifies drives' performance according to the needs of the application. The controllers can eliminate the need for an external PLC, and helps to save energy and up-front costs.

A pump and fan control (PFC) feature modulates the speed of the main pump or fan, and brings any auxiliary pumps or fans on line as necessary. The drive even can manage switching between pumps or fans to ensure that they all are used to the same extent (working hours) over time. In addition, the drive includes soft pump and fan control (SPFC), which further reduces unwanted pressure peaks in pumps and pipelines.

Among the standard energy efficiency features is an energy optimizer that helps to make adjustments in areas such as noise and efficiency. The drive's internal fan is controlled by software to reduce losses, further improving energy efficiency. Energy savings can be monitored easily, using the built-in energy counter, which displays energy savings in kWh, or local currencies.

"It is impressive to be able to see, in real time, the energy these drives are saving a customer," Watson noted. "That's a feature ABB has added, to that end users visually can see how their installations impact their bottom line, in terms of energy consumption."

Simplicity, Flexibility and Reliability; Buy Only What You Need

The user interface of the new general machinery drives also are designed to give users greater flexibility -- and the possibility to cut costs. The control panel is needed only for commissioning or troubleshooting, so no panel is included with the drive as standard. Users who require a panel can select between two types: basic and advanced. Both are detachable, so an end-user could acquire a single panel to swap between, and use across, a number of drives.

A short parameter menu view means that only the most-used drive parameters are shown on the drive's parameter view. A complete parameter view can be changed by setting one parameter; this saves time, as the user quickly can see the most important parameters - critical to fast drive commissioning.

The drive also has pre-programmed application macros for common tasks. The user is helped by an intuitive user interface with several assistant screens, including: a start-up assistant to guide the user through all essential settings; a maintenance assistant that helps to set criteria for preventative maintenance; and a diagnostic assistant that finds the root cause of a problem. A timer assistant offers help for setting timed functions, while the PID assistant helps in setting up sensor feedback.

Communicative

The drive has embedded Modbus RTU interface as standard (RS-485/RS-232). Well-known Modbus protocol, integrated and compact design simplifies the commissioning of the drive.

The drive is based on a robust hardware and software platform. It is resistant to supply voltage drops and sags, improving the reliability of the application. Flying start enables picking up a spinning load without waiting for it to stop. Full output current is available at up to 50 °C ambient temperature.

Installation and commissioning is further speeded with the help of a User's Short Manual, which provides basic information on the mechanical and electrical installation; start-up and control with I/O; and actual values and parameters in the short-parameter menu view.

Easy Integration

All the units are equipped with a built-in EMC filter. And the drives are extremely compact: the 480 V drives over 1 HP are the smallest available in their category. And only the width of the drives increases with increasing power, which facilitates easy installation into cabinets, or stand-alone configurations.

Cable tunnels can be arranged in a straight run, and all screw holes can be drilled in a line. DIN-rail mounting of the all ACS310 units also is provided for, and the drives can be mounted side-by-side, without the need for air gaps. When cabinet depth is very limited, the drives even can be mounted with one side to the back of the cabinet. At only 9.7 lbs, handling and installation of the 30 HP units is easy. The drives' own housing provides IP20 protection. And the drives can be configured before start-up, using ABB's FlashDrop configuration tool. This feature is particularly useful for serial manufacturing, where time per unit for programming parameters is critical.

Automatic Functions for Pumping

-- The drive has a variety of commonly needed functions for pump installations, such as:
-- Pump and fan control (PFC) and soft pump and fan control (SPFC) functions for controlling pumps in parallel
-- Supervision of inlet / outlet pressure conditions
-- Soft start and stop (pipe-fill function) to reduce mechanical stress and water hammer effect
-- Detection of under load and overload
-- Pump cleaning sequence for prevention of pump jamming

Load Analyzer Eases Dimensioning

The motor-control software features a tool to analyze the loading of the drive, so that users more accurately can dimension the drive and motor for the specific application. This Load Analyzer tool comprises an Amplitude logger and a Peak Value logger. The data of both loggers must be able to restore itself should there be a power failure and, as such, the data is stored within a Flash memory.

In addition, the drive features software-controlled phase inversion, which provides a fast and easy way to change the phase order of motor rotation; this saves time, as there is no need to change the output cable manually.

Compliant with Standards

The drive is EMC compliant to second environment, as standard. First environment compatibility is available as an option. AC output chokes enable use of long motor cables. AC input chokes reduce total harmonic distortion, making the drive compliant with EN61000-3-12.

The enclosure class is IP20, with UL Type 1 (NEMA 1) kit available as an option. The interface has five digital and two analog inputs, accompanied by one digital and one analog output. The drive features a relay extension module (optional) that offers an extra three FORM C relay outputs, providing improved I/O interfaces. The drive also has embedded Modbus RTU with RS-232 and RS-485 connections.

ABB, Automation Products, Low Voltage Drives, is the world's largest manufacturer of electric motors and drives. In the USA, an integrated channel of sales representatives, distributors, and system integrators allow ABB, New Berlin, Wisconsin, to supply a complete line of energy-efficient electric drives, motors and engineered drive systems to a wide range of industrial and commercial customers. Products manufactured include AC and DC variable speed drives for electric motors from 1/8th through 135,000 HP, and application-specific drive system solutions to meet diverse customer needs (http://www.abb.us/drives).

ABB (www.abb.com) is a leader in power and automation technologies that enable utility and industry customers to improve their performance while lowering environmental impact. The ABB Group of companies operates in around 100 countries and employs about 120,000 people.

Contact:
ACS350 Product Manager
Kathleen Watson
262-785-3228 phone
262-780-3144 fax
Kathleen.l.watson@us.abb.com

More from Controls & Controllers