AC/DC TIG/STICK Welding Systems offer full digital control.
Press Release Summary: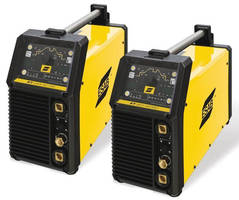 Portable, inverter-based welding systems ET 220i (29.5 lb) and ET 301i (35.9 lb) offer full digital control of TIG and Stick welding arc. Both units automatically accept single- or 3-phase, 50 or 60 Hz, 208–230 Vac or 460 Vac primary power (±15%). When connected to single-phase power, units offer max TIG output range of 5–200 A. On 3-phase power, ET 220i provides top TIG output of 220 A and Stick output of 170 A; respective values for ET 301i are 300 A and 200 A.
---
Original Press Release:

ESAB ET 220i and 301i AC/DC TIG/STICK Welding Systems Offer Full Digital Control, Input Power Flexibility and Portability



Florence, SC — ESAB today introduced the ET 220i AC/DC and ET 301i AC/DC inverter-based welding systems, which offer full digital control of the TIG (GTAW) and Stick (MMA/SMAW) welding arc, input power flexibility and lightweight portability. Advanced TIG features include pulsing the AC or DC output from 0.2 to 2000 Hz, an AC output frequency adjustable from 30 to 200 Hz, an AC balance control adjustable from 10 to 90 percent, the ability to tailor arc starts and welding performance based on electrode diameter and a Tiptronic function that saves parameters for 100 TIG welding jobs. Advanced Stick functions include adjustable arc force ("dig") control and adjustable Hot Start amperage and duration.



Both units automatically accept single- or three-phase, 50 or 60 Hz, 208-230V or 460 VAC primary power (±15 percent) with no manual re-linking required. When connected to single-phase power, both units offer a maximum TIG output range of 5 to 200 amps. On three-phase power, the ET 220i provides a top TIG output of 220 amps and Stick output of 170 amps; the ET 301i provides a top TIG output of 300 amps and Stick output of 200 amps. The ET 220i weighs 29.5 lbs. and the ET 301i weighs 35.9 lbs.; both units measure 13 x 7.25 x 19 in.



"The ET 220i and 301i meet the needs of professional welders who demand full control of the TIG welding arc and excellent Stick performance with all electrode types," says Ken Alrick, Senior Welding Product Manager, ESAB. "The advanced TIG functions enable operators to control the weld bead profile and manage heat input, both of which improve weld quality and productivity."



Alrick notes that the ET 220i and 301i offer more power per pound than other leading TIG welders, and their robust aluminum case and IP23S protection class provide the durability required for shop or field use. ESAB designed the ET series for the shipbuilding, automotive, industrial manufacturing, mobile fabrication, construction, pipe welding and maintenance/repair industries.



ESAB offers the ET units as part of a system that includes a water cooler, TIG torch, Tweco® electrode holder and work clamp, Victor® regulator and all required hoses, cables and connectors. An industrial dolly/cart organizes all components, secures a gas cylinder and creates a compact, portable system that operators can easily wheel around the shop or load in a truck (after removing the cylinder).



Advanced Controls



Compared to conventional welders and less sophisticated inverters, ET inverters improve TIG welding results because they enable operators to tailor welding parameters to match specific applications. For example, many operators like to increase gas post-flow time when welding stainless steel, as well as use a pulsed TIG output to manage heat input, narrow the bead width, increase travel speed and increase penetration. The ET series enables operators to set pulsing rates of 0.2 to 2000 Hz, adjust background current from 1 to 200 percent of welding current and adjust the duration of the background pulse from 1 to 99 percent of total cycle time. After determining optimum parameters, operators can then use the Tiptronic memory function to easily store and quickly recall programs for stainless jobs they routinely encounter.



When welding aluminum, the ET series lets operators adjust the amount of time the waveform spends in the electrode negative phase (EN, which does the welding work) and the electrode positive phase (EP, which provides the cleaning action necessary to remove surface oxides). In many applications, operators set EP at 30 percent or less to remove heat from the electrode, increase penetration and maintain a pointed tungsten (which provides better directional control of the arc, as well as bead width).



The ET series also enables operators to adjust the welding output frequency from 20 to 200 Hz. Increasing frequency concentrates the arc column and prevents the arc from wandering. As a result, operators can increase travel speed, narrow the oxide etch zone and put in a narrower weld bead. To start, many operators experiment with frequencies from 100 to 150 Hz, especially to prevent overheating thin sections and over-welding on fillet welds. As with pulse parameters, the ET series can store and recall favorite settings to reduce set-up time.



ESAB Welding & Cutting Products is a recognized leader in the welding and cutting industry. From time-honored processes in welding and cutting to revolutionary technologies in mechanized cutting and automation, ESAB's welding consumables, equipment, and accessories bring solutions to customers around the globe. For more information, visit www.esab.com or call 1-800-ESAB123.



FOR MORE INFORMATION, CONTACT:

Ken Alrick

937-216-3118

kenneth.alrick@esab.com